Engagement Party Invitation
Smart E Invites is an online platform where we specialize in creating beautiful and personalized online engagement invitations for your engagement ceremony. As one of the most important events leading up to the Indian wedding ceremony, the engagement function deserves a special invitation reflecting this significant moment's joy and excitement.

Engagement describes the acceptance of the marriage proposal, and it marks the bond between the families of the bride and groom. So, choosing Smart E Invites will be an excellent decision for a perfect engagement invitation.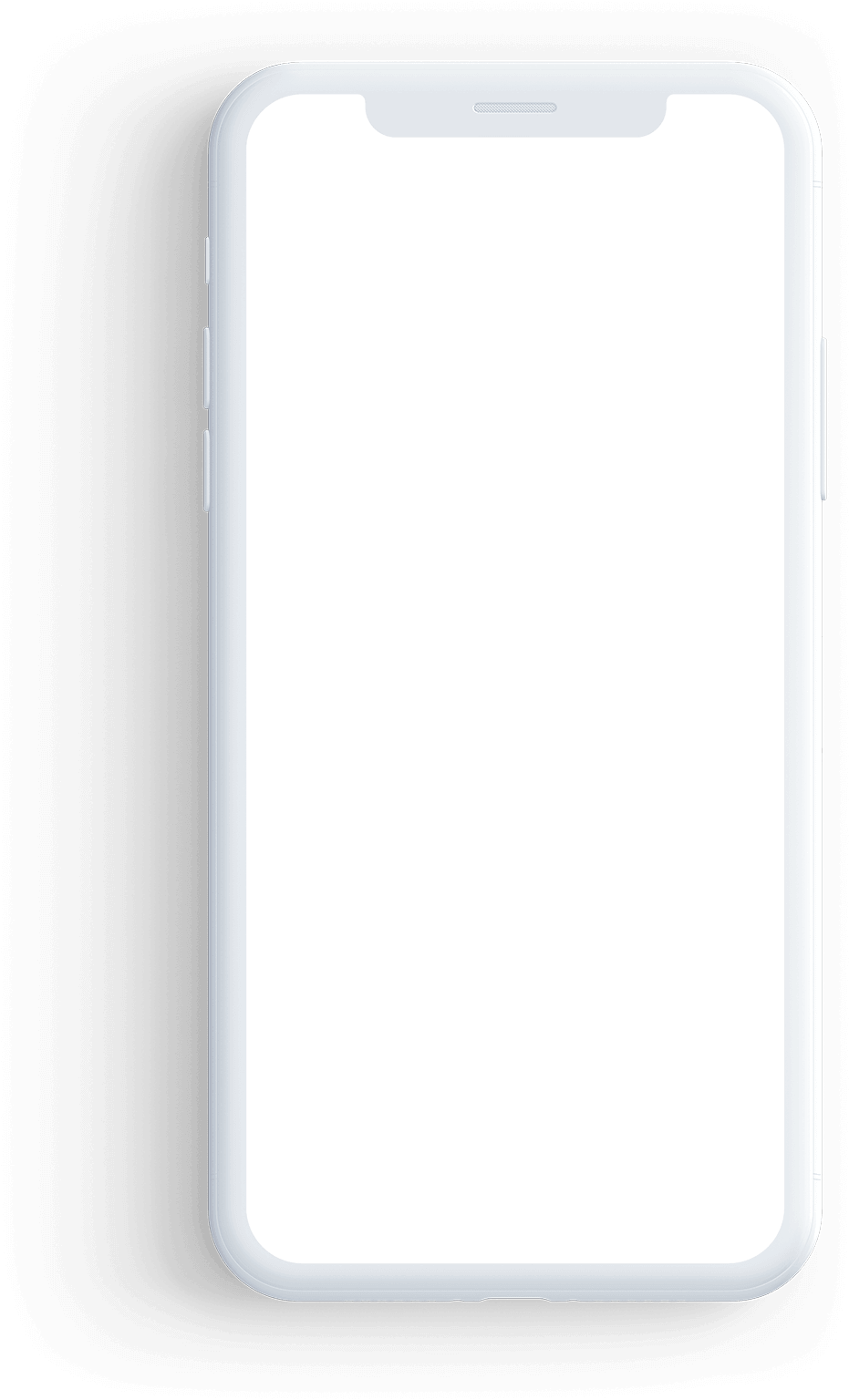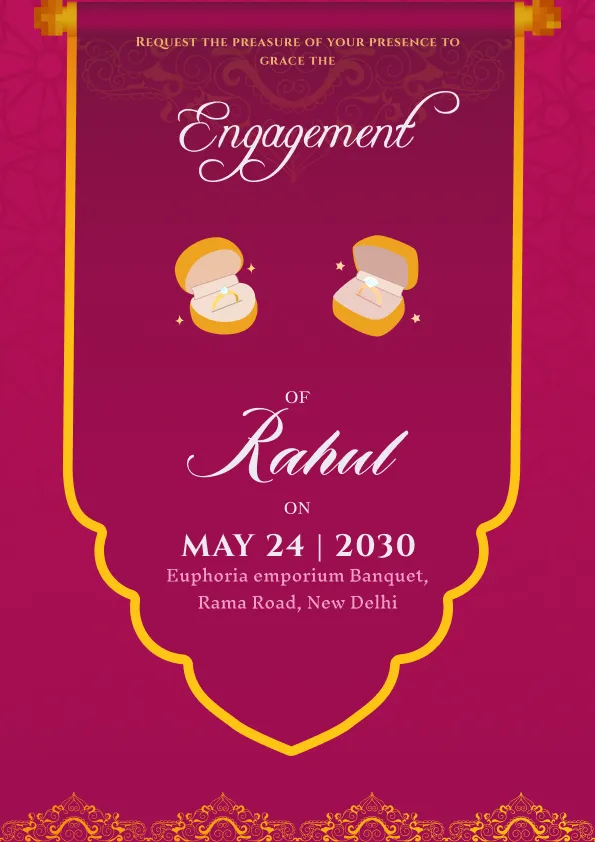 Popular Engagement Party Invitation Templates
About Engagement Party Invitation
Role Of Engagement Ceremony In Indian Weddings
The Engagement ceremony, also known as the Sagai or Roka ceremony, is a significant pre-wedding ritual in Indian weddings. It marks the formal announcement and commitment of the couple to get married. The Engagement ceremony typically takes place a few months or weeks before the actual wedding ceremony and involves the exchange of rings between the bride and groom.
The ceremony is usually held at the bride's or groom's residence, or a banquet hall, and close family members and friends from both sides attend the event. The atmosphere is joyous and celebratory, with the venue adorned with decorations, flowers, and colourful fabrics.
During the Engagement ceremony, the bride and groom exchange rings as a symbol of their love and commitment to each other. This exchange is accompanied by blessings, well wishes, and prayers from the elders and guests in attendance. The couple's families also exchange gifts and sweets as a gesture of their acceptance and happiness in welcoming the alliance.
The Engagement ceremony is a formal announcement to the community and marks the beginning of wedding preparations. It is a time for families to come together, establish a bond, and begin planning for the upcoming wedding festivities. It is also an opportunity for both families to meet and interact, strengthening the relationship between them.
Additional customs and rituals are performed during the Engagement ceremony in some regions and communities.
Reasons To Choose A Digital Invite For Engagement
Convenient : Digital invitations offer convenience for both the host and the guests. Creating and sending online invitations is a quick and hassle-free process, saving time and effort compared to physical invitations. Guests can receive the invitations instantly and respond conveniently with just a few clicks.


Cost-effective : Online engagement invitations are generally more cost-effective than printed invitations. They eliminate the expenses associated with printing and postage. This makes them a more budget-friendly option, especially when there is a large guest list.


Eco-friendly : They are environmentally friendly as they reduce paper waste. Opting for digital invitations in the engagement function helps conserve trees, reduce carbon emissions from transportation, and minimize the overall environmental impact of paper production.


Accessibility : Digital Engagement invites allow for easy accessibility regardless of the geographical location of the guests. They can be sent to guests living in different cities, states, or even countries without needing physical mailing. This makes it convenient for distant relatives and friends to be part of the engagement ceremony.


Numerous Designs : Online engagement invitations offer a wide range of options for editing. Users can choose from various templates, colours, fonts, and designs to create personalised invitations that reflect their unique style and the theme of the event.
Smart E Invites For The Best Engagement Invitation
Smart E Invites offers a wide range of customisable engagement invitation template options for your engagement function invitation, each designed with the unique cultural and traditional elements that make Indian weddings so special. From vibrant colours to intricate patterns, our creative engagement invitation card captures the essence of this joyous occasion.
Whether you prefer a classic, traditional style or a modern, chic look, our platform has something for everyone. We offer a range of design options, allowing you to create an invitation that truly reflects your style and taste.
Our platform also offers the convenience of a classy engagement invitation card, allowing you to easily and quickly share your invitation with friends and family via email or social media. With just a few clicks, you can create a beautiful and professional-looking engagement invitation online that will impress your guests and make your engagement function one to remember.
In addition to our customisable templates, our platform also offers a range of features and tools to make your invitation creation process as smooth and easy as possible. From guest management to RSVP tracking, we have everything you will require to manage your engagement function invitations from start to finish.
At our platform, we understand the importance of your engagement function and the role it plays in the larger Indian wedding celebration. That's why we are committed to creating a high-quality Indian engagement invitation that captures the spirit of this special event and makes it truly unforgettable. So why wait? Start creating your perfect engagement function invitation on Smart E Invites. Let us help you make your Indian wedding celebration an unforgettable experience for you and your guests with a perfect engagement ceremony invitation card.
Frequently Asked Questions
Navigate to the Engagement invitation section of Smart E Invites, create or select the template of engagement invitation, then provide the essential information. Now your online engagement is ready to go.
The engagement ceremony defines the commitment of the bride and groom towards each other for getting married. 
There are various templates available under the engagement category, from which you can select the one as per your preference, and you can also make an invitation from the beginning.
You can write various quotes, messages or the essential details about the bride and groom, signifying the importance of the engagement ceremony. 
With Smart E Invites, you can break the joyful news of your engagement by sending online engagement invitations to your close ones.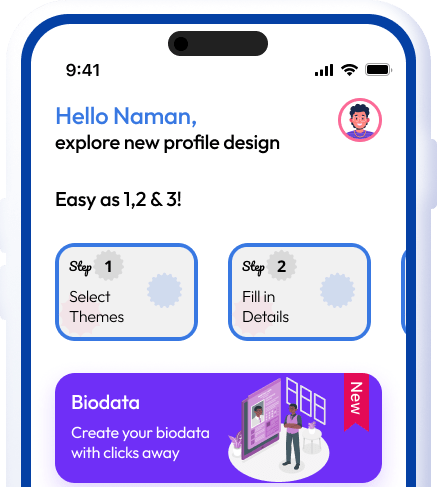 Design & Create the Perfect E-Invitation
Check out the latest online wedding invitations at Smart E Invites for making your special day memorable.