Wedding celebrations in India are once-in-a-lifetime events. Before the wedding, there is great involvement in planning and preparation. To make your wedding huge, you must book a magnificent wedding venue, organise your lehenga and other attire and others. Even you choose the songs on which the couple will dance and for this, you also hire a choreographer.
When everything is finished, it is time to choose the trending family wedding return gifts. Marriage is a joyous occasion that brings together family, friends, and loved ones to celebrate the union of two souls. However, these people have contributed enough to your journey and also to share on your special day.
You want your wedding to be a special occasion, and you want your guests to remember your gifts as a reminder of an incredible love affair. As a gesture of appreciation for the presence and blessings of guests in the form of return gifts is a beautiful tradition. While the options are vast, selecting meaningful and thoughtful gifts for your relatives can truly make a lasting impression.
In this blog, we will explore a variety of top Indian wedding return gifts for relatives that will show your gratitude in style.
Explore Meaningful Marriage Return Gift Ideas In India
If your wedding festivities are about to a conclusion and you are planning to buy thank you gifts. But after all the enjoyable events for newlyweds, what might be the perfect family wedding return gifts?
This takes time to think much about the perfect wedding return gift for guests. Further, you put a lot of thinking and research into it because you want them to retain more than just a memory. Giving presents is a difficult process in India, and people occasionally take too long to get festive return gifts for wedding guests.
You wish to show your gratitude for their participation in your once-in-a-lifetime events by giving marriage return gifts for relatives. What you need in this situation is special return gift ideas for family members. This will serve as a gesture of your thanks and joy for having them in your wedding festivities. Let's move on to the classiest and most creative return gift ideas for relatives that are sure to impress your guests.
1. Silver Bowl Set With Spoons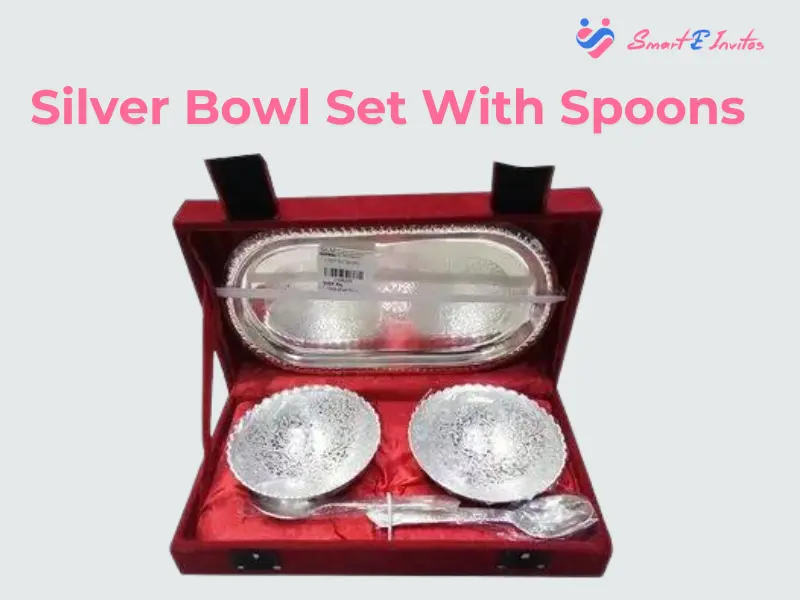 A silver bowl set with spoons is one of the classic and elegant marriage return gift ideas for relatives. It exudes a sense of luxury and sophistication, making it a timeless keepsake that your relatives can cherish for years to come. You can personalize each bowl or spoon with the initials of the recipient or a special message. This adds a thoughtful touch and turns the traditional gift into a cherished memento.
2. Miniature Lamps
Miniature lamps can make for charming and unique wedding keepsakes for relatives. They add a touch of warmth and ambience to any space, making them a thoughtful and memorable token of appreciation. You can choose a variety of miniature lamp styles, such as lanterns, tea light holders, oil lamps, or fairy light jars. Additionally, this allows your relatives to select the style that suits their home décor.
3. Key Hanger
A key hanger is one of the sustainable return gifts for wedding guests that can help them stay organized while decorating their homes. You can consider engraving the couple's names, wedding dates, or a meaningful quote on the key hanger to add a personalized touch. It also includes a small frame within the key hanger design to showcase a family photo.
Memorable Wedding Favors For Relatives
Unforgettable wedding mementos for family members should reflect your gratitude and create lasting memories of your special day. The favoured of all time, the most popular wedding return gifts are hampers, which you can personalise based on your preferences.
Chocolates or other sweets, thank you cards, tiny velvet pouches, religious presents like Diyas, etc. can all be included in affordable return gifts for wedding guests.
A lavish hamper basket, on the other hand, can contain a gorgeous silver bowl, a silver religious figure, fragrant candles, tableware, jewellery, wine bottles, etc. Using jute bags as wedding return gifts is an excellent choice that aligns with sustainability.
In addition, it provides your relatives with a useful and eco-friendly memento of your special day. You can print or paint a unique design, motif, or monogram on the jute bags that reflect your family's identity or the theme of your wedding.
A Shagun box with sweets is one of the traditional and cultural return gifts for wedding guests who often cherish it. It combines the gesture of giving blessings and good wishes (Shagun) with the sweetness of delicious treats. You can select high-quality and well-loved sweets that are popular in your region or that hold special significance for your family.
Unique Return Gift Ideas For Wedding Relatives
Going a little out of the ordinary is the way to go. You can always think of unique and quirky return gift for wedding guests. Let us provide you with some fantastic and unusual choices.
1. Perfume Bottles
Perfume bottles are one of the luxurious and heartfelt return gifts for family at weddings. Fragrances evoke emotions and memories, making them a thoughtful choice that will remind your relatives of your special day. Additionally, you can customize the perfume bottles with labels that include the couple's names, a wedding date, or a special message.
2. Henna Themed Cookies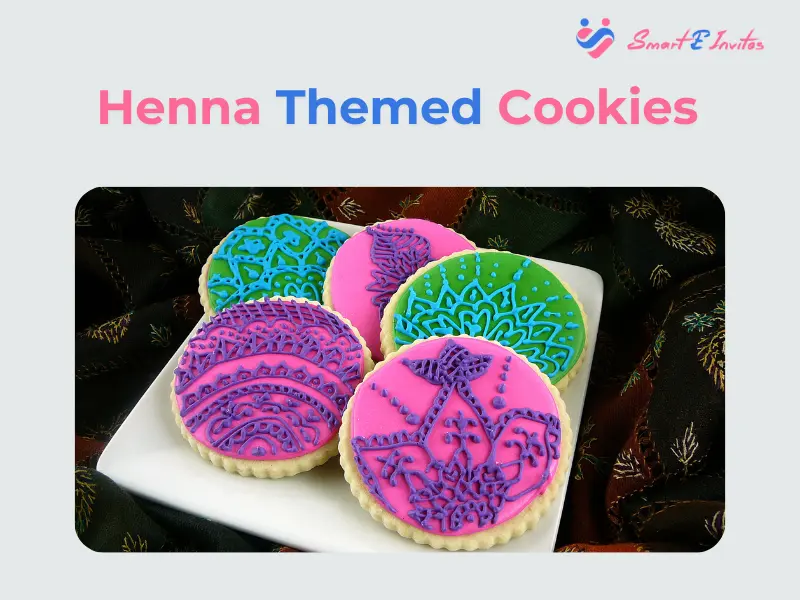 Henna-themed cookies are a creative and culturally rich wedding favor idea, especially if you are celebrating a wedding with culturally henna designs. These beautifully decorated cookies can capture the essence of the occasion and provide a delightful treat for your relatives. Further, you can use various cookie-cutter shapes like hands, flowers, and geometric patterns to capture the diversity of henna designs.
3. Accessory Box
Also, an accessory box can be one of the thoughtful return gifts for close relatives. It offers them a fashionable, well-organized method to keep their jewels, timepieces, and other accessories. To keep various items organised, you might make sure the accessory boxes include numerous compartments, drawers, and dividers.
DIY Return Gifts For Guests At Wedding Ceremony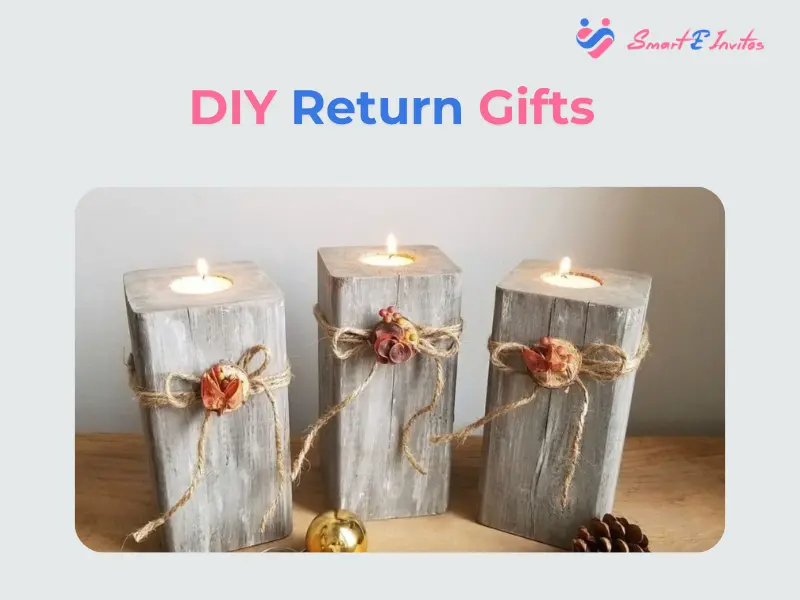 Creating DIY customized gifts for wedding guests adds a personal touch to gift your guests as a gesture of gratitude. Moreover, wedding guests can also receive handmade welcome presents. These appreciation gifts are wonderful ideas for adding a personal touch to your gifting. You can include items created at home such as homemade jam, cakes, muffins, cookies, and sweets to express your love.
As a symbol of growth and new beginnings, you can provide seed packets for herbs or flowers that guests can plant at home. Furthermore, you can create fabric napkin rings with your wedding colours and patterns, adding a touch of elegance to the table setting. Also, you can decorate plain tea towels with hand-stamped designs or monograms for thoughtful return gifts for wedding guests.
FAQs
Ques 1. What are the exclusive family return gift ideas in India?
Ans. Wedding return gift ideas in India can be inspired by the rich cultural heritage and traditions of the country. These relatives' gifts are meant to reflect the warmth and gratitude you feel towards your relatives. It can be a silver coin, handcraft art, jute bag, cultural food hamper, and others.
Ques 2. What are the options available in personalized return gifts for wedding guests?
Ans. Personalized return gifts at weddings add a special touch to your reciprocal gifting, making each gift feel unique and meaningful. The expression of thanks as personalised return gifts can be monogrammed towels, engraved glassware, custom coasters, and others.
Ques 3. What can be the cultural and religious return gifts for wedding guests?
Ans. Cultural and religious wedding return gifts hold deep significance and reflect the traditions and values of the couple and their families. Further, you can gift small idols of Hindu deities like Ganesha, Lakshmi, or Krishna, symbolizing blessings and prosperity. Also, you can offer boxes containing fragrant sandalwood powder or kumkum (vermilion) used for religious rituals.