Are you planning your dream wedding? One of the first things that come to mind when organising a wedding is sending out beautiful and captivating wedding invitations. The wedding E invitation sets the theme for your special day and gives your guests a look into the style and theme of your wedding. 
How to Choose Perfect Wedding Invitation Templates For Your Special Day?
The invitation for your wedding is the first look your guests will have of your big day. It's essential to choose a design that reflects your personality and sets the right mood. Numerous free wedding invitation templates offer a convenient and cost-effective way to create stunning invitations without compromising on style. 
In this blog post, we will explore the best wedding invitation templates that will leave a lasting impression on your guests.
Elegant Floral Templates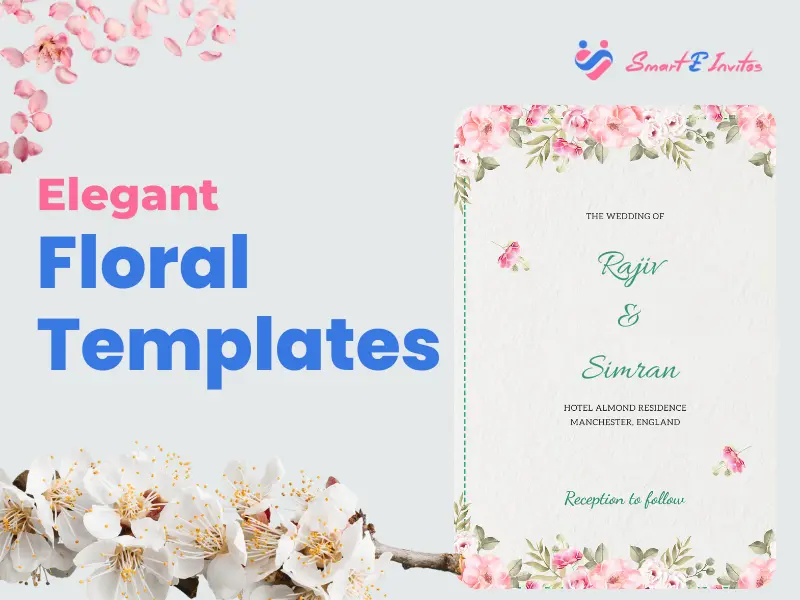 Floral designs are timeless and add a touch of elegance to any wedding invitation. These templates feature beautiful flowers in various arrangements, from delicate watercolor illustrations to intricate laser-cut designs. Whether you prefer soft pastel shades or vibrant blooms, there's a floral template to suit your taste. Moreover, floral templates are perfect for romantic weddings or garden-themed celebrations.
Modern Minimalistic Designs
If you lean towards a contemporary and sleek aesthetic, modern minimalistic wedding invitation templates are an excellent choice. These designs focus on clean lines, minimalist typography, and ample white space. They exude sophistication and simplicity, making them suitable for couples who appreciate understated elegance. Moreover, opt for single-tone palettes or incorporate a pop of colour for a modern twist.
Vintage-Inspired Invitations
Vintage-inspired wedding invitation templates transport you and your guests to a bygone era. These designs often feature ornate borders, intricate patterns, and vintage illustrations. Choose from classic motifs like lace, damask, or art deco elements. However, vintage wedding invitation templates free are perfect for couples who want to infuse their special day with nostalgia and old-world charm.
Rustic and Nature-Inspired Themes
For couples who adore the beauty of nature, rustic and nature-inspired wedding invitation templates are an ideal choice. These designs capture the essence of the great outdoors with elements such as wood textures, watercolor greenery, or whimsical forest illustrations. Moreover, rustic invitations are perfect for outdoor weddings, barn weddings, or bohemian-themed celebrations.
Art Deco Glamour
Embrace the elegance of the Roaring Twenties with an art deco-inspired wedding invite template. These designs feature geometric patterns, metallic accents, and bold typography. Art Deco invitations exude glamour and sophistication, making them a perfect choice for couples who want a wedding filled with timeless style and grandeur.
Theme-Based Digital Invitation For Modern Era
The modern era is popular for eye-catching innovations in every sector, and they also influence the invitation industry. As a result, various theme-based invitations are available as well. Let's look at them. 
Desi Theme Online Wedding Invitation: Embracing Culture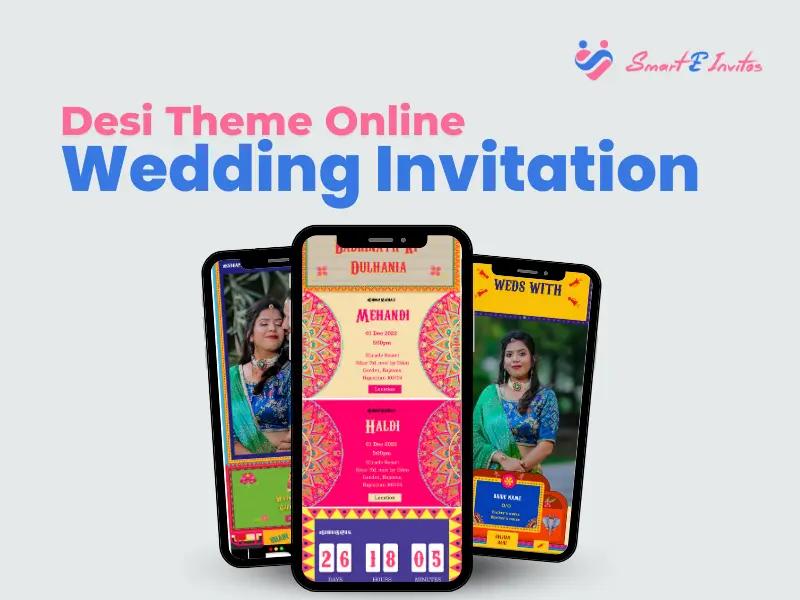 A desi-themed online wedding invitation is a wonderful way to honour your cultural heritage and add a touch of elegance to your special day. However, with their vibrant colours, intricate patterns, and traditional motifs, wedding invitation templates freely captures the essence of traditional Indian weddings. Whether you opt for a Rajasthani-inspired design, art motif, or a fusion of various regional styles, Hindu wedding invitation templates set the tone for a celebration filled with rich traditions, music, dance, and delectable cuisine.
Snapchat Theme Wedding Invitation For Youngsters
If you're a couple who loves to keep up with the latest trends and enjoys sharing moments on social media, a Snapchat-themed wedding invitation is a perfect choice. With its playful and modern approach, this invitation style incorporates vibrant filters, geolocation tags, and personalised Bitmojis to create a unique digital experience for your guests. Moreover, they will be excited to snap and share their anticipation for your big day, creating a buzzworthy celebration before it even begins.
Travel-Themed Wedding Invitations: Start A Journey of Love
For couples with a love for adventure and wanderlust, a travel-themed wedding invitation sets the stage for an extraordinary celebration. Capture the excitement of exploring new destinations and create an invitation that resembles a vintage map, passport, or airplane ticket. Moreover, infuse your invitation with wanderlust-inspired elements such as compasses, suitcases, or iconic landmarks to evoke a sense of adventure. Whether you're planning a destination wedding or simply want to transport your guests to a world of romance, a travel theme invitation is sure to ignite their imagination.
Bollywood Theme Wedding Invitation To Celebrate Love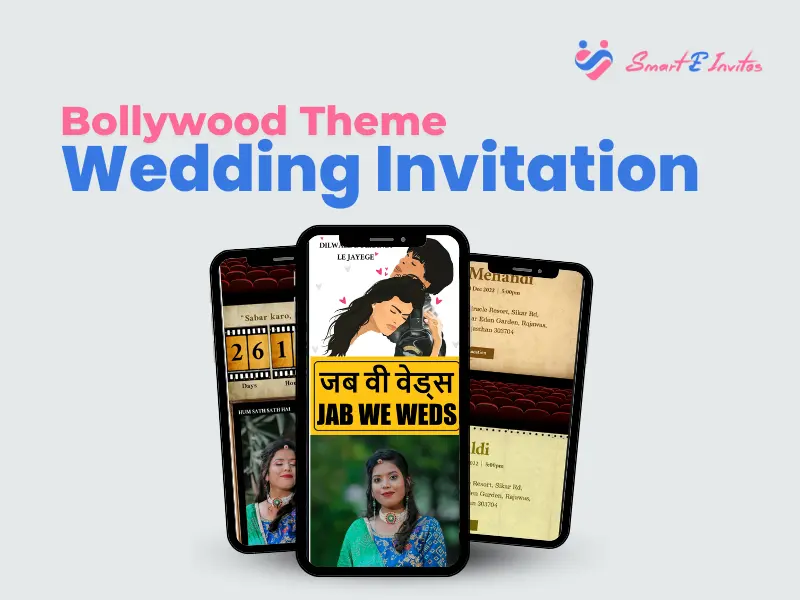 If you dream of a wedding that exudes glitz, glamour, and a touch of Bollywood magic, then a Bollywood-themed online wedding invitation is the way to go. Add vibrant colours, ornate patterns, and elements inspired by Indian cinema to create an invitation that impresses your guests. Let them know that your wedding will be a grand celebration filled with music and dance performances. Also, embrace the opulence that defines Bollywood. These Indian wedding invitation templates are perfect for couples who want to add a dash of Bollywood pizazz to their special day.
How to Create Theme-Based online wedding invitations
Creating a theme-based online wedding invitation is a simple and straightforward process. Here's a step-by-step guide to get you started:
Choose An Online Platform
Select a reliable online platform specializing in digital invitations. Look for one that offers Snapchat-inspired templates and customization options.
Select A Design
Browse through the available templates and choose a design that resonates with your style and wedding theme. Moreover, consider elements like colours, fonts, and overall aesthetic.
Customize The Details
Personalize your invitation by adding your name, wedding date, venue, and other essential information. Add photos, choose filters, and include any interactive features you desire.
Preview And Test
Before sending out the invitations, preview your creation to ensure everything looks perfect. Test the interactive features to ensure they work seamlessly.
Send And Track
Once you're satisfied with the final result, send the invitations digitally to your guests. However, many platforms offer tracking options, allowing you to see who has received and opened their invitations.
Tips for Memorable Theme-based Invitation Templates
Keep It Concise
Theme-based wedding invitations are known for their brevity. Therefore, keep your invitation message short and to the point. Use concise wording and avoid overwhelming your guests with excessive information.
Include A Call-To-Action
Encourage your guests to respond or RSVP by including a clear call-to-action in your invitation. Provide instructions on how they can confirm their attendance or send their best wishes.
Be Creative With Filters And Stickers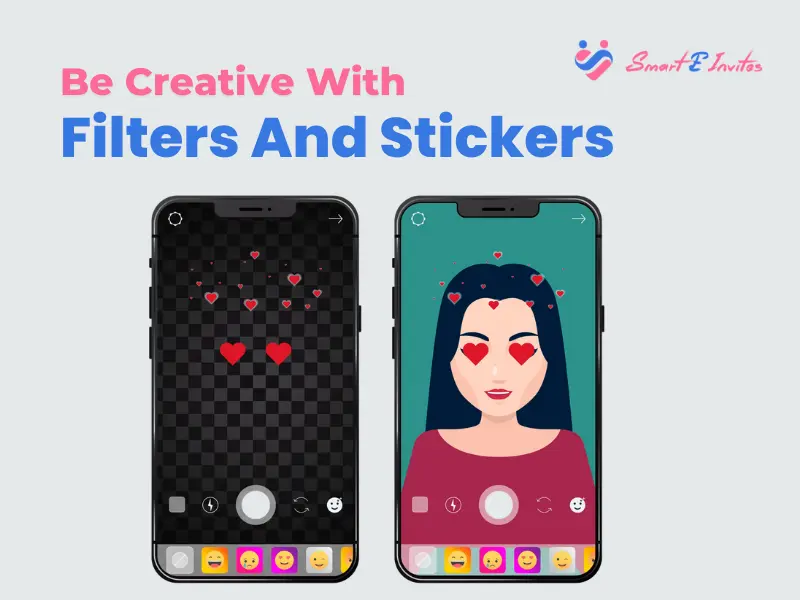 Take advantage of online invitation makers' playful features by creating custom filters or stickers that reflect your wedding theme. This adds a touch of fun and allows guests to personalize their photos.
Add A Personal Touch
Share a short video message or a series of photos to provide a glimpse into your love story. This personal touch will make your invitation more memorable and heartfelt.
Ensure Accessibility
Not all of your guests may be familiar with online invitations. Make sure to provide instructions on how to download and use the app. Therefore, everyone can enjoy the interactive features of your invitation.
Conclusion 
Your digital wedding invitation sets the style of your entire celebration. By choosing a desi theme, Snapchat theme, travel theme, or Bollywood theme online wedding invitation, you can infuse your wedding with cultural elegance, modern vibes, a sense of adventure, or the glamour of Indian cinema. Let your creativity and personal style shine through as you start the exciting journey towards your happily married life ever after.
FAQs
Ques 1. What is the importance of wedding invitations?
Ans Wedding invitation templates are important as they provide a convenient and cost-effective way for couples to create personalised invitations that set the tone for their special day.
Ques 2. What are some popular wedding invitation templates?
Ans Some popular wedding invitation templates include floral designs, minimalist styles, rustic themes, and elegant typography.
Ques 3. How can wedding invitation templates enhance the wedding?
Ans Wedding invitation templates can enhance the wedding by setting the desired aesthetic, creating anticipation, and effectively conveying important information to guests.
Ques 4. What are the characteristics of modern wedding invitation templates?
Ans Modern wedding invitation templates include clean and minimalist designs, bold typography, geometric patterns, monochromatic colour schemes, and creative use of negative space.
Ques 5. What are the types of theme-based wedding invitations available?
Ans Travel theme, Snap theme, Bollywood theme, and Desi Theme wedding invites are popular nowadays for elegance and beauty.