In the age of technology, electronic invitations have become an increasingly popular way to invite guests to your special occasions. Whether it's a digital wedding invitation, birthday party, or baby shower, designing e-invitations can effectively spread the word quickly and easily. However, just like with traditional invitations, there are certain E-invitation design dos and don'ts to remember. In this blog post, we'll go over some important tips to make E-invitations look elegant and impressive.
List Of Dos and Don'ts of Designing E-Invitations
We are explaining the essential list Of Dos and Don'ts of Designing E-Invitations for the ideal digital invitation. Thus, be with this blog post for designing the perfect E-invite. 
DO: Choose the Right Platform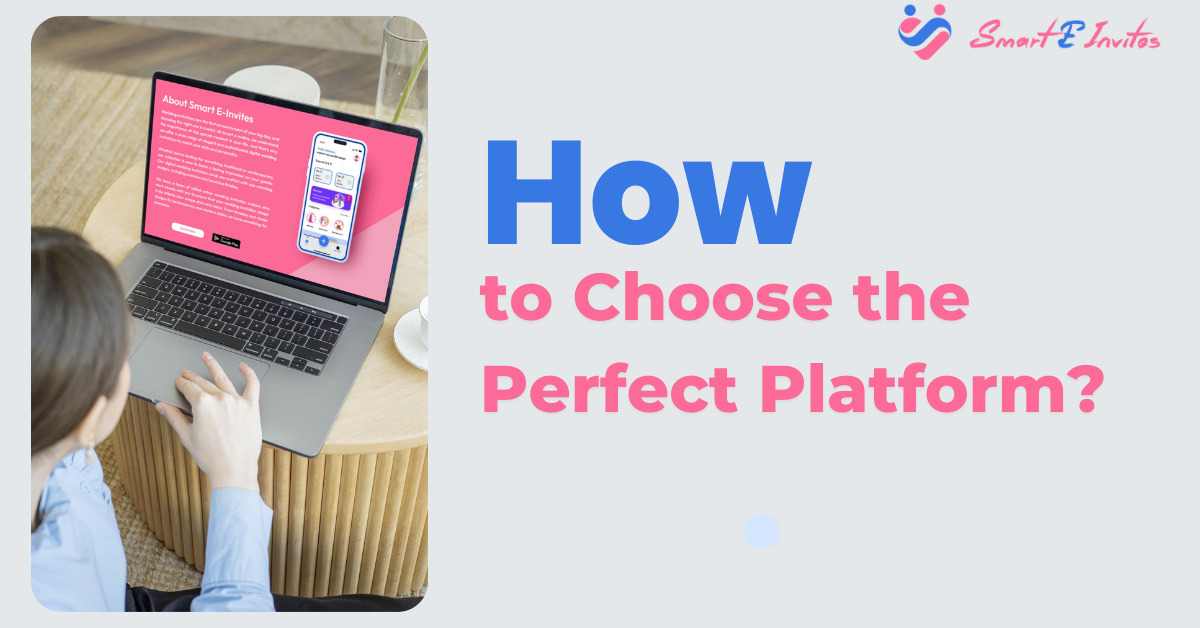 One of the important tips for designing E-invitations is to choose the right platform to send it on. Numerous websites and apps allow you to create and send e-invitations, but not all of them are created equal. One popular platform to consider is Smart E Invites, for the best online E-invitation services. Make sure to do your research and choose a platform that fits your needs and budget.
When it comes to designing e-invitations, choosing the right platform is essential. With so many options and unique E-invitation design ideas, it can be overwhelming to determine which platform to use. However, selecting the right platform can make a significant difference in the success of your event.
Platforms such as Smart E Invites offer various features and E-invitation design tools, like unique Bollywood theme wedding invitation designs. This ensures that your e-invitation stands out among numerous E-invitation design templates. 
With the ability to design, send, and track RSVPs, the right platform can save you time and effort. So, take the time to research and choose a platform for DIY E-invitation design ideas that fits your needs. Also, get ready to send out an e-invitation that your guests will not be able to resist.
DON'T: Overcrowd Your Invitation
When it comes to designing e-invitations, less is often more. It is important to include all of the necessary information about your event.
Moreover, you don't want to overcrowd your invitation with too many images or text. Instead, keep the design simple and easy to read, and include only the most important details. Also, ensure to follow the guidelines about the E-invitation wording dos and don'ts. Keeping your e-invitation simple and easy to read ensures that your guests can quickly understand.
DO: Choose the Right Colors and Fonts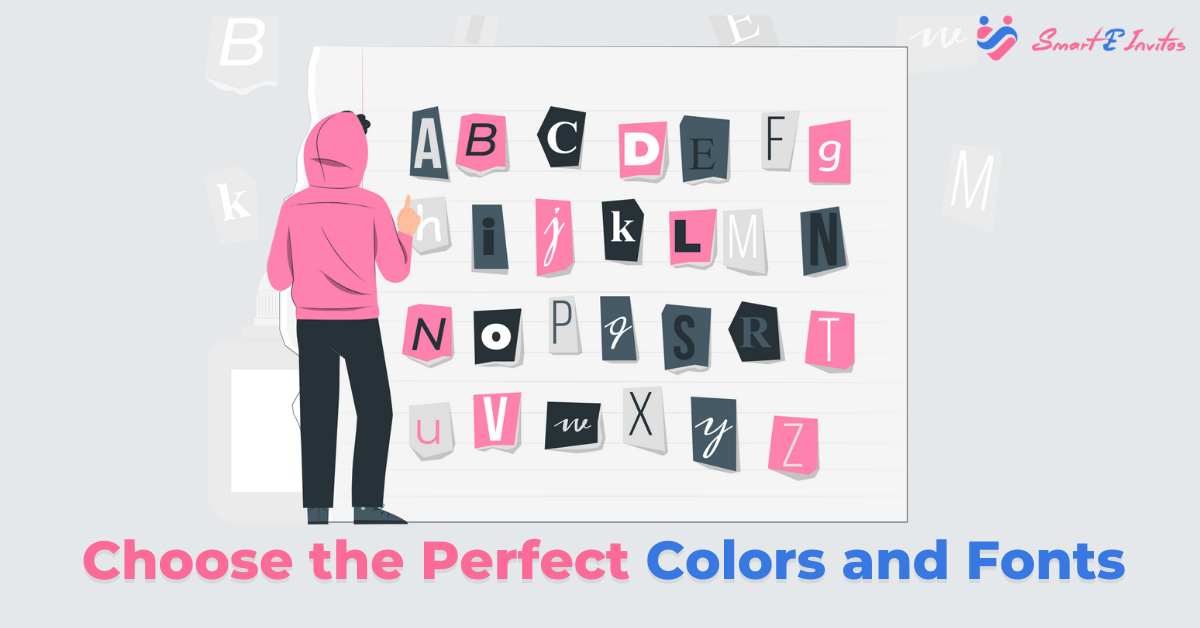 Choosing the right colours and fonts for your e-invitation is crucial in creating an invitation. This makes your invitation stand out and leaves a lasting impression on your guests.
The colours you choose can set the tone for your event and convey its theme. And the right font can make your invitation easy to read and add to its overall aesthetic appeal. It's important to choose colours that complement each other and match the style and personality of your event. 
Similarly, selecting a font that is appropriate for the occasion can make all the difference in the overall look and feel. So, take the time to consider your colour carefully. And select from font choices to create an invitation that is visually appealing and easy to read. Your guests will appreciate the extra attention to detail, and you'll be sure to make a lasting impression.
DON'T: Forget to Include RSVP Information
One of the common mistakes in E-invitation design you can make is to forget to include RSVP information. RSVPs are critical for planning your event, and not including this information can create confusion. This makes it challenging to manage attendance.
In addition, guests may need to learn how to RSVP or may assume they don't need to RSVP. It will lead to unexpected surprises on the event day. To avoid this, include clear and concise RSVP information in your e-invitation. 
Furthermore, provide a deadline for responses, and consider including multiple ways for guests to RSVP. Moreover, it includes an online form or a phone number to call to help the guests. By making it easy for your guests to RSVP, you can ensure that your event runs smoothly. Also, ensure that you are able to plan for your guests' attendance properly.
DO: Personalize Your Invitation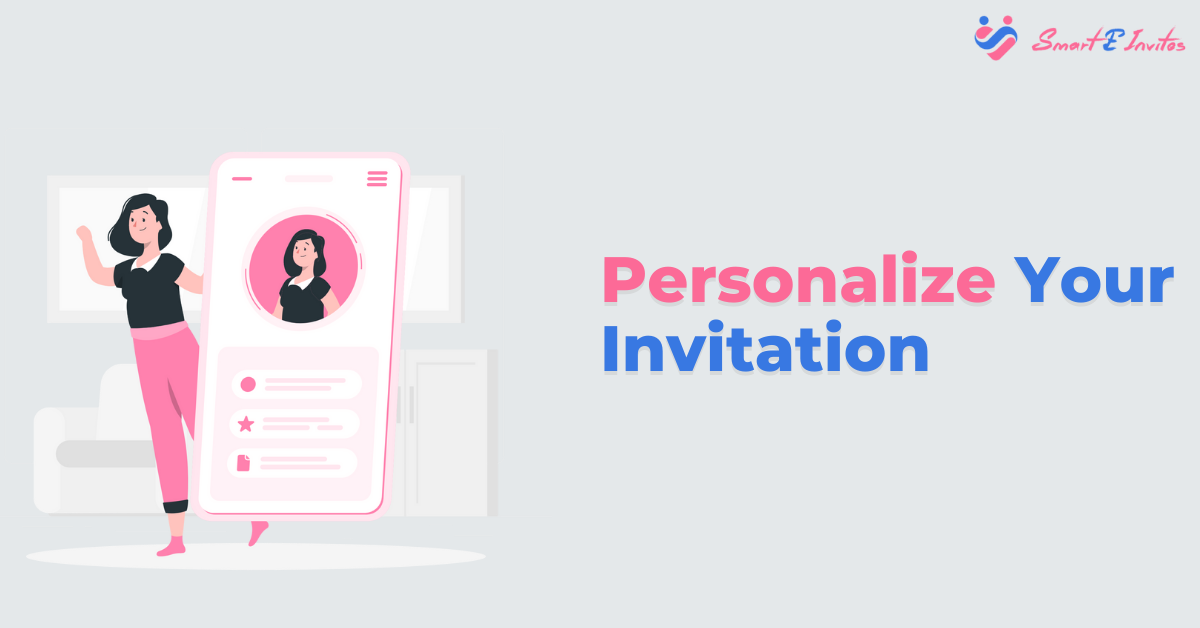 Creating a personalized e-invitation will make your guests feel special and excited about your upcoming event. Personalized E Invitations can also convey the importance of the occasion and make guests feel appreciated and valued. 
Adding a personal message to each invitation or virtual E-invitation design. There are endless ways to make your e-invitation stand out. And you can show your guests that you've put thought and effort into creating a special event. So, do not be afraid to get creative and make your e-invitation a true reflection of your style and personality.
DON'T: Use Too Many Images
Images can be a great way to enhance the visual appeal of your e-invitation. However, using too many images can actually be messy. When an invitation is overloaded with images, it can be overwhelming and difficult to read. As a result, it can create confusion and frustration for your guests. 
Too many images can also make your invitation appear cluttered and distract from the important information you're trying to convey. Instead, use images sparingly and strategically to add visual interest and complement the design of your invitation. Choose high-quality images relevant to the occasion and ensure they're not too large or overpowering.
DO: Test Your Invitation Before Sending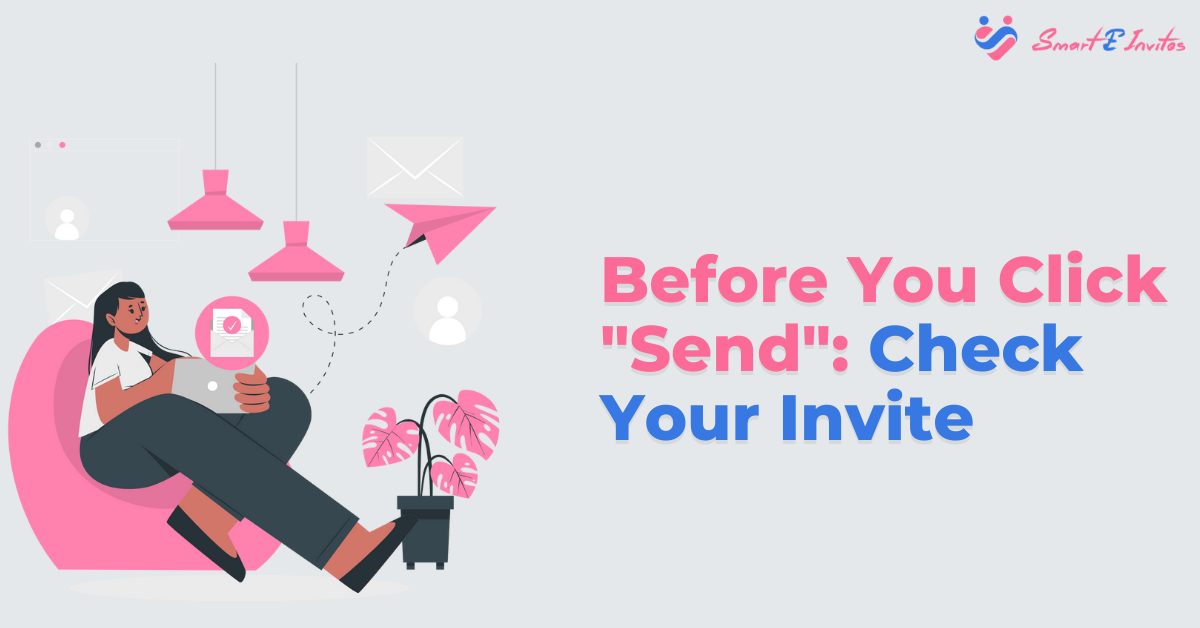 Testing your e-invitation before sending it out is crucial in ensuring that it looks and functions exactly as you intend. You can identify errors or issues by sending a test invitation to yourself or a trusted friend or family member. Also, you can make any necessary adjustments before sending it out to your entire guest list.
This can include checking for spelling and grammatical errors and ensuring all links and buttons work properly. And confirming that the overall design and layout look exactly how you want them to.
DON'T: Wait Until the Last Minute
Rushing to create an invitation can result in mistakes, errors, and oversights that can compromise the effectiveness of your invitation. Therefore, it can make the invitations less appealing to your guests.
To avoid these issues, it's best to start designing your e-invitations well in advance of your event. Ensure to allow plenty of time for testing, revisions, and sending them out to your guest list. This will give your guests ample time to RSVP and make arrangements to attend. And it will ensure that your event is well-attended and successful.
Conclusion
In this way, designing an e-invitation can be a great way to invite guests to any special occasion or gathering. By following the dos and don'ts of designing E invitations, you can create a visually appealing and effective invite.
FAQs
Ques 1. How can I make my E-invitations more visually appealing?
Ans. By using high-quality images, choosing a cohesive colour scheme, and selecting a visually appealing font can significantly boost the appearance of E-invitations.
Ques 2. Are there any copyright issues to consider when designing E-invitations?
Ans. It is crucial to use only those content and images for which you have permission to use or that are in the public domain to avoid copyright.
Ques 3. What are some best practices for E-invitation design that can increase curiosity among guests?
Ans. Some best practices include using a creative and unique design, teasing the details of the event, and using attractive language.
Ques 4. How do I ensure that my E-invitations are accessible to everyone, including those with disabilities?
Ans. We must make sure that the invitation is compatible with screen readers, use alternative text for the images, and choose a font that is easy to read for everyone. 
Ques 5. Should I include all the event details in the E-invitation, or can I link to a separate page for more information?
Ans. It is ideal to include all the essential event details in the E-invitation itself, but a separate page can be helpful for additional information or to RSVP.