The wedding industry has been steadily evolving over the years. And one trend that has been gaining momentum recently is the shift toward digital wedding invitations. Traditional paper invitations have been the norm for decades. However, the rise of technology and the increasing emphasis on survival have paved the way for the future of wedding invitations.
Future Of Wedding Invitations Online: Explained In Depth
What does the future hold for digital wedding invitations? Let's take a closer look at some key trends and developments that will shape the future of wedding invitations.
Greater Custom-make And Personalized Invitations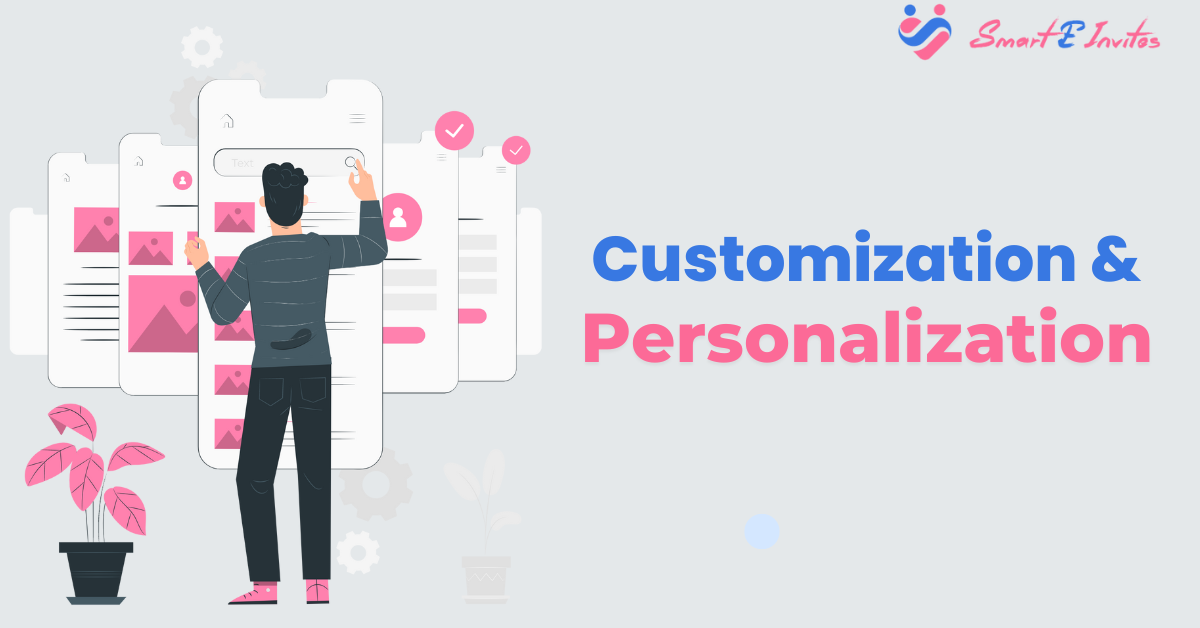 One of the main benefits of digital wedding invites is the ability to customize and personalize them easily. As technology advances, we can expect to see even more options for custom-made invites. It includes unique designs, colours, fonts, and layouts for future wedding invites. Additionally, with artificial intelligence and machine learning, digital invitations can be tailored to match the personality and style of each couple.
The future of wedding invitations is all about greater personalization! They come with advanced technologies and innovative design tools. Therefore, couples can now create bespoke online wedding invitations that truly reflect their unique style and personality. 
The possibilities are endless, from custom color schemes and fonts to personalized messages and photos. Personalized digital wedding invitations make a lasting impression on guests.
Also, they offer practical benefits such as easy tracking and RSVP management. So personalized E-invitations are stylish and convenient if you plan a traditional ceremony or a modern celebration.
Eco-Friendly Future Of Wedding Invitations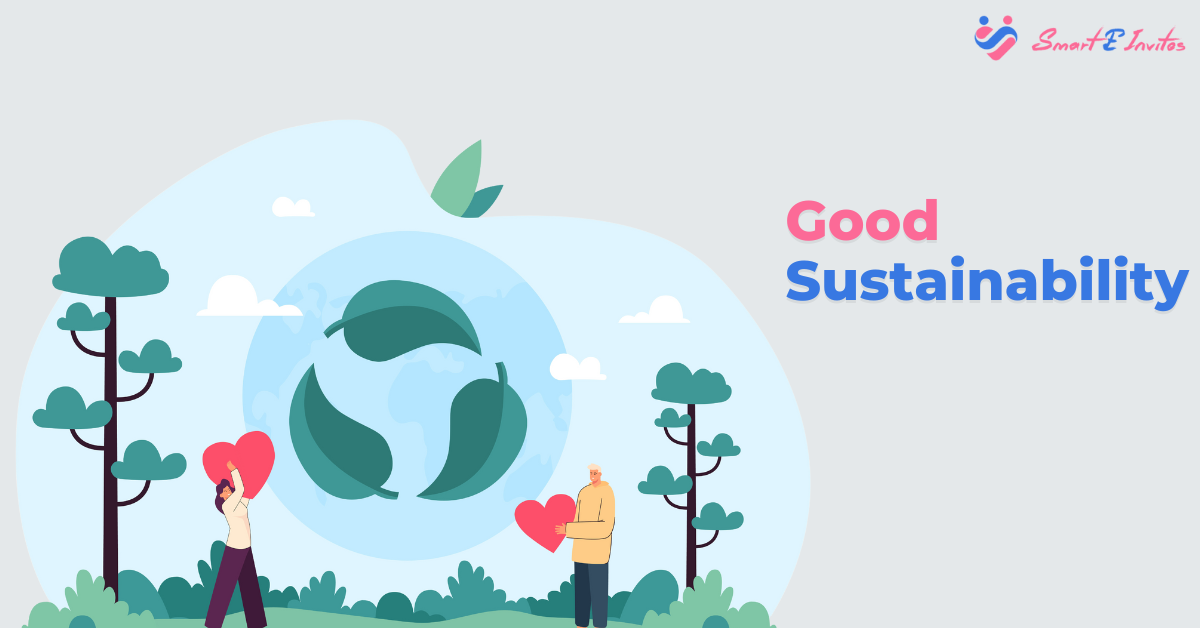 More people are becoming aware of the environmental impact of paper products. Hence, there has been a growing movement towards eco-friendly alternatives. For example, virtual wedding invites are a great way to reduce paper waste and minimize the carbon footprint of a wedding.
Moreover, in the future, we can expect to see more couples opting for sustainable wedding invites. This leads towards a way to make their wedding celebrations more sustainable.
Digital wedding invitations offer a great opportunity to enhance the future of the wedding industry. With the advancement of technology, green wedding invitations have become more sophisticated and environmentally friendly than their paper counterparts. As a result, they are created and distributed with minimal waste. Also, they reduce the carbon footprint linked with shipping and transportation. 
Digital invitations also allow for easier RSVP tracking and smoother communication with guests. It makes the wedding planning process more efficient and friendly. Couples can contribute to a greener future while still maintaining an elegant digital wedding invitation.
The future of wedding invitations is bright, and digital wedding invitation trends are popular. Therefore, the charge toward a more sustainable and responsible celebration of love is increasing.
Integration With Social Media And Digital Platforms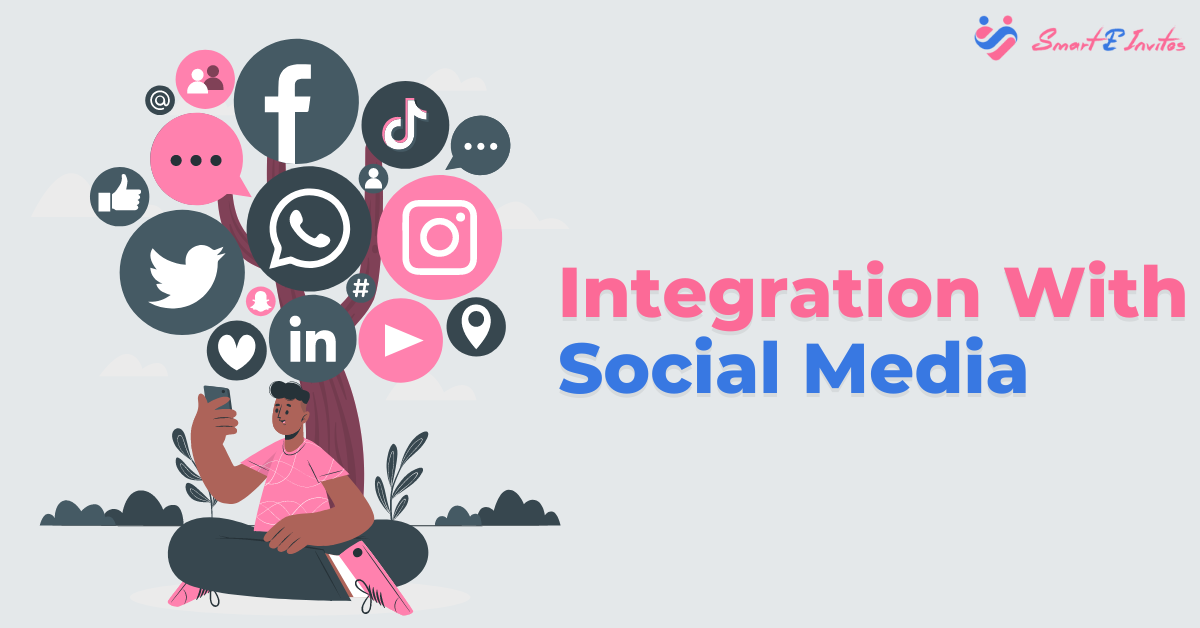 Social media has become an integral part of modern life. And it's no surprise that it's also starting to play a role in the wedding industry. In the future, we can expect to see unique digital wedding invitation ideas that are fully integrated with social media platforms. And it will allow couples to easily share information about their wedding with their friends and family.
Additionally, we may see digital invites for weddings that are linked to online wedding registries. This will make it easier for guests to purchase gifts and send their RSVPs.
In today's fast-paced digital age, social media platforms have changed how we communicate and share information. The future of wedding invitations is no exception. Because couples increasingly turn to social media to create unique and personalized digital wedding invitations that reflect their style and personality.
They give us the ability to instantly share photos, videos, and messages with loved ones all around the world. Social media platforms like Instagram, Facebook, and Pinterest are the perfect tools to share stunning digital wedding invitations. This makes it easier to capture the essence of your special day. 
Suppose you're looking for a simple and elegant design or a bold and creative concept. In that case, social media offers endless possibilities to make your wedding invitations stand out. And also leave a lasting impression on your guests. Also, various platforms like Smart E Invites offer numerous digital wedding invitation templates, contributing towards a better future for wedding invitations. 
Interactive Features For The Future Of Wedding Invitations
Another exciting development in the world of modern wedding invitations is the cluster of interactive features. For example, couples can include videos, animations, and even virtual reality elements in their interactive digital wedding invitations. This creates a more immersive and engaging experience for their guests.
As technology continues to evolve, we can expect to see even more innovative and creative ways to incorporate interactive elements. This results in more creative digital invitations.
The future of digital wedding invitations is brimming with exciting interactive features. And it will evolve how couples invite their guests to their big day. The ideas are endless, from personalized RSVP options that allow guests to choose their meal preferences. Also, it indicates their attendance to live streaming capabilities that enable remote attendees to participate in the ceremony.
With the advancement of technology, innovative wedding invitations can now incorporate stunning media elements such as videos, music, and animations. This will capture the couple's personality and make their invitation stand out. The interactive features of the future of wedding invitations will make the process of inviting guests more efficient. And also add fun and excitement to the experience.
Greater Convenience And Access
Finally, digital invitations offer a level of convenience and access that traditional paper invitations simply can't match. Guests can easily access all the necessary information about the wedding from their devices with the help of affordable wedding invitations. Additionally, couples can send reminders and updates to their guests in real-time. This will ensure that everything is organized and on top of all the details.
The future of digital wedding invitations is all about greater convenience. With digital invitations, couples can easily and quickly create and send out beautiful invitations to their guests. This eliminates the hassle of printing, addressing, and mailing physical cards.
Not only does this save time and money, but it also allows for greater custom-made and personalized invitations. Additionally, with digital invitations, guests of all backgrounds can simply RSVP and communicate with the couple about any personal needs or dietary restrictions.
It is no surprise that digital wedding invitations are quickly becoming the go-to choice for couples. As a result, the popularity of digital communication is increasing. They streamline the wedding planning process and create a memorable, stress-free experience for their guests.
The Final Thought
In conclusion, the future of digital wedding invitations looks bright, with exciting developments and trends on the horizon. E-Invites offer greater personalization, a better future, integration with social media, interactive features, or greater convenience and access.
There are many reasons why couples opt for digital invitations over traditional paper ones. So if you're planning a wedding in the near future, consider embracing this trend. And explore the many benefits of digital invitations.
FAQs
Ques 1. What are digital wedding invitations?
Ans. Digital wedding invitations are such invites that are virtually sent to guests through different digital platforms. 
Ques 2. Are digital wedding invitations appropriate for formal weddings?
Ans. In the modern era of digitalization, digital wedding invitations are undoubtedly suitable for any kind of wedding.
Ques 3. How do I create my own digital wedding invitations?
Ans. Numerous platforms, such as Smart E Invites, offer ease of making digital invitations. Just fill in the essential details, and you are good to go. 
Ques 4. What are the benefits of using digital wedding invitations?
Ans. The major benefits of digital wedding invitations include environmental sustainability, easier guest management, and customization. 
Ques 5. Are digital wedding invitations considered tacky?
Ans. To overcome the tackiness, it is essential to individually inform the person to whom the digital invitation has been sent. 
Ques 6. What are the design options for digital wedding invitations?
Ans. Depending upon the platform, numerous digital wedding invitation templates are available, along with different customization options. 
Ques 7. How can I ensure my digital wedding invitations are delivered and received?
Ans. After sending out the invitations, we can contact the guests to see if they received the wedding invitations. Doing this step ensures that guests check their inboxes in case they forget.