Imagine the thrill of a whirlwind romance culminating in a last-minute wedding. It is an event filled with spontaneous decisions and heartfelt emotions. Now picture this joyful occasion accompanied by elegant wedding invitations that perfectly capture the moment's essence.
Setting the Scene for Last-Minute Wedding Invitations
Regarding weddings, the invitations set the tone for the entire event. They sneak into the couple's style, the wedding theme, and the overall atmosphere. In the case of last-minute weddings, this essence becomes intriguing. As a result, the rush of emotions translates into unique invitation design and wording choices that reflect the moment's excitement.
The Timeless Appeal of Wedding Invitations
Wedding invitations hold a special place in history. From intricately designed scrolls of the past to modern digital creations, they have always been a symbol of love and unity. The allure of wedding invitations lies in their ability to encapsulate the essence of a couple's journey and dreams. Even in the context of a last-minute wedding, these invitations retain their charm, telling a story as old as time.
Unveiling the Last-Minute Wedding Scenario
A couple so deeply in love and ready to tie the knot immediately. While some consider spontaneous wedding planning challenging, it can be incredibly romantic and memorable. The urgency of the occasion lends a unique energy to every aspect, including the invitations. Suddenly, overwhelming choices become an exciting adventure, creating creative solutions that celebrate love.
Therefore, in this blog post, we're diving into the captivating world of last-minute wedding invitations. We will explore their timeless appeal, crafting methods, essential inclusions, etiquette, logistics, and much more. So, grab a seat and prepare to embark on a journey where improvement meets sophistication.
Crafting Your Expressive Online Invitation
Online wedding invitations are popular for convenience and variation in the digital age. When crafting a last-minute online invitation, consider platforms that offer templates, allowing to infuse your personality and wedding details. Opt for designs that complement the theme or colours of your wedding, making the invitation an extension of your celebration's style.
Navigating the Essentials: What to Include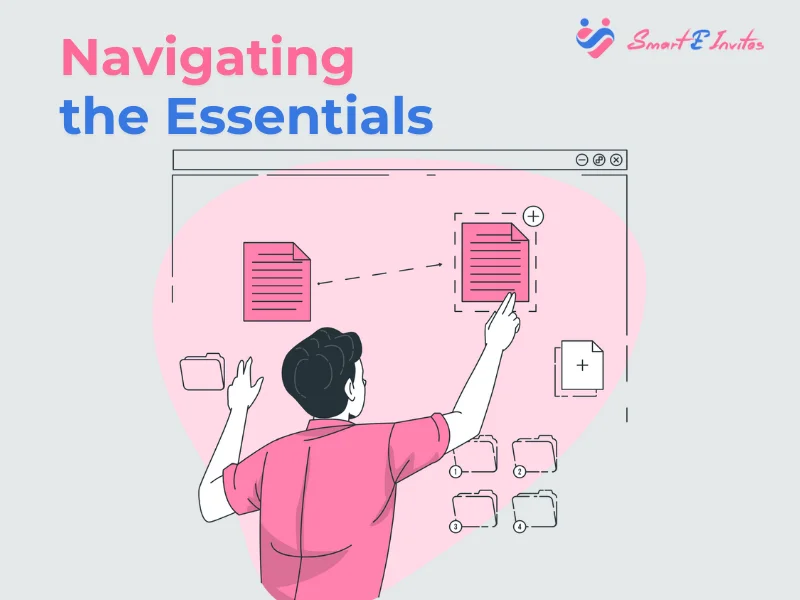 While the timeline may be short, details must be in your last-minute wedding invitations. Ensure you include the couple's names, the date, time, and event location. Remember to mention the dress code, especially if you have a specific theme. Additionally, provide a clear RSVP deadline and contact information for guests to respond promptly.
The Art of Wordplay: Wording Your Invite
Wedding invitation wording is where your creativity truly shines. For last-minute weddings, consider a playful and light-hearted approach. Embrace expressions that reflect your personality and the unique nature of your event.
Leveraging the Power of Online Platforms For Marriage Invitations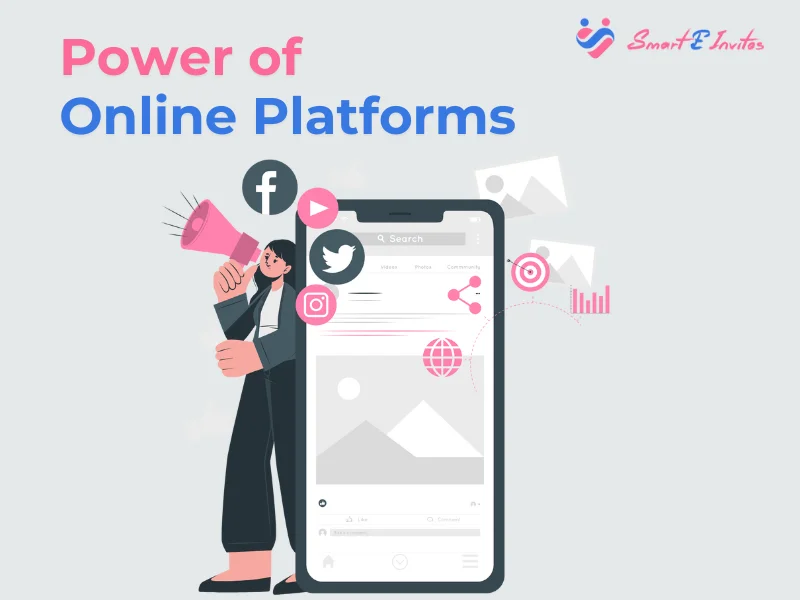 Online platforms offer many resources for last-minute wedding planning, including spontaneous wedding invitations creation and distribution. Choose a platform that gives the options of custom designs, track RSVPs, and collect virtual gifts. As you browse the digital landscape, remember that your invitations should exude elegance in weddings and enthusiasm even in a rush.
From Digital to Touchable: Printing Options
While digital wedding invites are convenient, some couples prefer the tactile experience of physical invitations. If you're opting for printed last-minute invitations, consider local print shops that offer fast turnaround times. Choose quality paper that complements your design. Also, do not hesitate to add unique embellishments for an extra touch of luxury for quick wedding invitation preparations.
RSVP Management Made Effortless
Managing RSVPs for a last-minute wedding may seem daunting, but modern technology has your back. Create a particular email address or use an online platform to collect responses. With the urgency of the rushed wedding arrangements, guests will provide swift answers, allowing you to finalize your guest list promptly.
Dealing with Short Notice Etiquette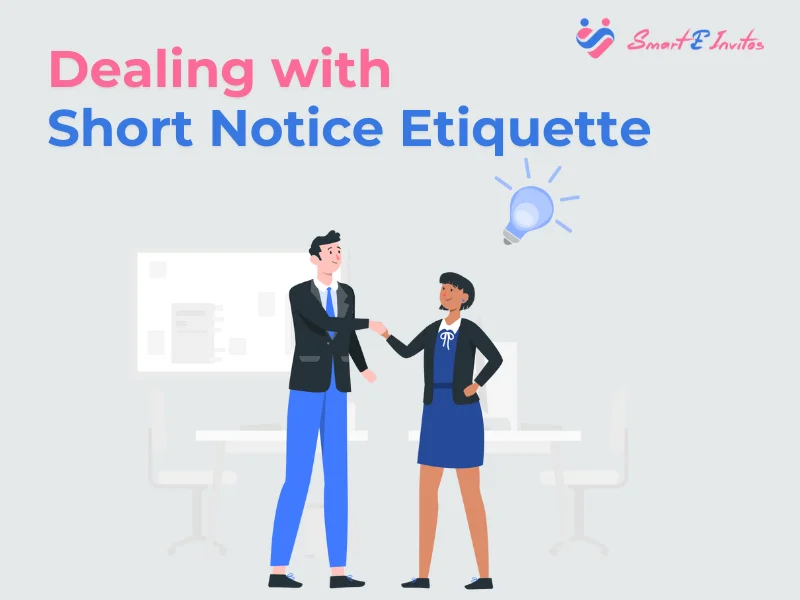 Last-minute weddings require a touch of understanding from your guests. While traditional etiquette may suggest sending invitations well in advance, giving your guests a shorter response window is acceptable. Ensure your guests know you appreciate their flexibility and understanding during this whirlwind time.
Weathering the Unforeseen: Updates and Changes
In the world of last-minute weddings, flexibility is key. Unforeseen circumstances might require you to change your plans, including the elegant last-minute events. Utilize your chosen communication channels to inform your guest. Also, assure them you are making changes with their best interests in mind.
Virtual Inclusion: Live-Streaming and More
Last-minute weddings might pose challenges for some loved ones. Consider live-streaming the ceremony to ensure everyone can join your special day. Share the link with those who can't attend in person, allowing them to witness your union from afar.
Managing Last-Minute Logistics
Logistics play a crucial role in last-minute wedding planning. Ensure that you have a reliable team to help you execute your vision for express wedding invitations. From securing the venue to vendors and ensuring smooth transportation, having technology for sending out last minute wedding invitations is crucial.
Capturing Improvement: Photography and Memories
Your wedding day, no matter how last-minute is a once-in-a-lifetime event. Hire a photographer who specialists in capturing candid moments and genuine emotions. These photographs will serve as cherished memories of a day that perfectly balanced elegance.
The Aftermath: Post-Event Gratitude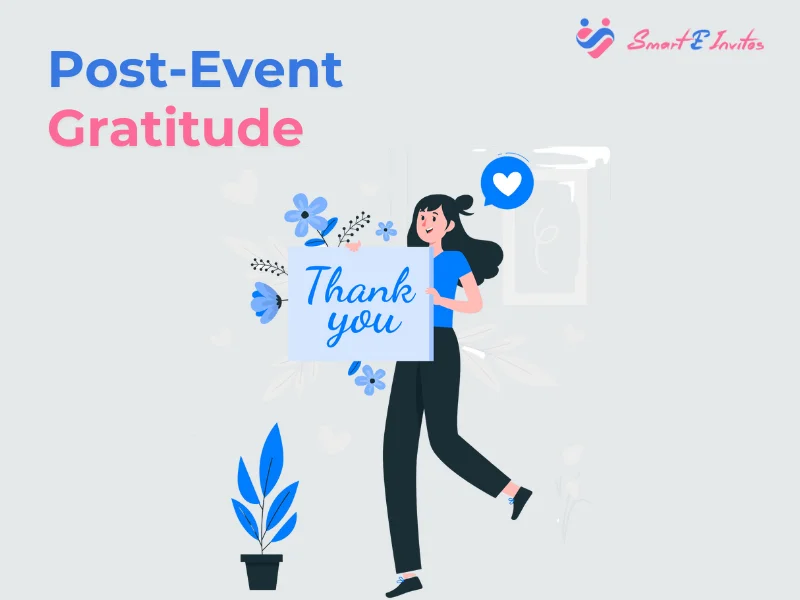 As the whirlwind of your last-minute wedding ends, take a moment to express your gratitude. Send thank-you notes to your guests, acknowledging their presence and support. A heartfelt letter goes a long way in showing your appreciation for their flexibility and love.
Conclusion
In a world where Improvement meets elegance, last-minute weddings have a charm that's uniquely their own. Every aspect of a last-minute wedding is an adventure. Remember that love knows no timeline, and we can create beautiful memories even in the shortest moments.
FAQs
Ques 1. What is the significance of wedding invitations in the context of last-minute weddings?
Ans. Wedding invitations set the tone for the event and reflect the couple's style and emotions, even in last-minute scenarios.
Ques 2. How can I craft an online wedding invitation for a last-minute wedding?
Ans. Choose platforms with customizable marriage invitation templates matching your wedding theme and details, extending your celebration's style.
Ques 3. What essential information should be included in last-minute wedding invitations?
Ans. Ensure the couple's names, date, time, event location, dress code, RSVP deadline, and contact information are provided.
Ques 4. How can I creatively word my last-minute wedding invitation?
Ans. Embrace a playful and light-hearted approach, using phrases that reflect your personality and the spontaneous nature of your event.
Ques 5. What is the etiquette for managing RSVPs for a last-minute wedding?
Ans. Create a specific email or use an online platform to collect responses swiftly, appreciating your guests' flexibility during the rush.