Every couple holds a special place in their hearts on their wedding anniversaries, which commemorate the journey of love and togetherness. It is especially important to respect and admire your friends' commitment while they are celebrating another year of their blissful marriage. Why not give your friends who are enjoying another year of marriage a special anniversary gift to commemorate the occasion? Choosing the ideal anniversary gift can be a wonderful way to express your support and affection.
There is no reason why you can't opt to give your favourite couple a gift if you so wish. Even if it is typical for couples to celebrate their wedding anniversaries alone. Although they are not the only occasions, significant marriage milestones like the first, tenth, or twenty-fifth wedding anniversary are frequently the greatest moments to offer a gift.
Finding anniversary presents for pals can be challenging at first, but we're here to assist you. In this blog, we will explore a variety of creative wedding anniversary gift ideas for friends that will make your friends' special day even more memorable.
Celebrate Your Friend's Marriage Anniversary With Gifts
It's time to start shopping once you have decided to get your friend a particular anniversary present. There are a few dimensions to make while opting for the perfect anniversary gift. It can be your relationship with the couple and their way of life. If your friend is very close to you then a sentimental gift, such as a personalised photo, can be a very great choice.
On the other side, if you don't know the couple well, a practical present like kitchenware or a bottle of wine would be more fitting. Additionally, you can get ideas from what they enjoy doing. Also, you can give them a beautiful wedding anniversary gift based on a pastime you both enjoy doing together.
Even you can plan a fun date night activity for the two of them. Some of the gift ideas are mentioned below.
Personalized Anniversary Book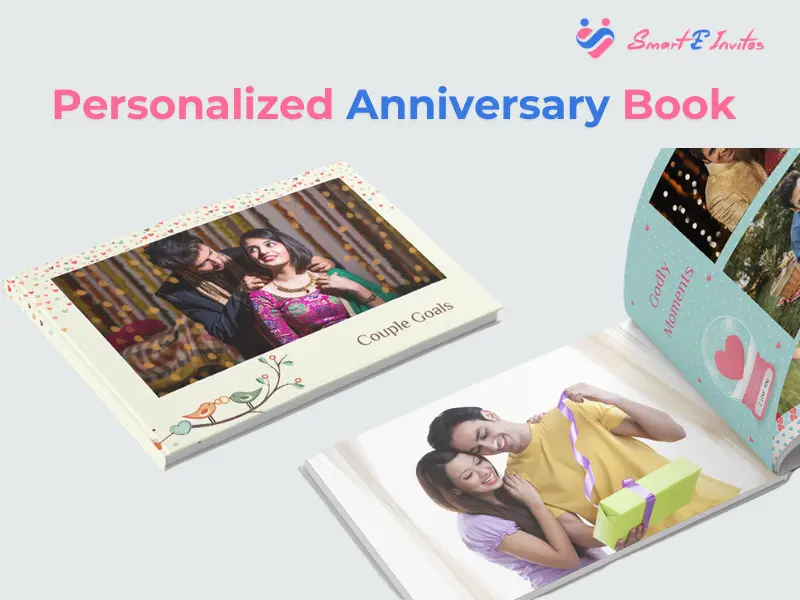 Gifts that carry a personal touch are always appreciated. You can consider personalized keepsakes such as custom-made photo frames or anniversary books engraved with their names and wedding date. These thoughtful items allow your friends to hold onto their cherished memories and celebrate their enduring love. A Personalized Anniversary Book is more than just a collection of photographs.
It is a carefully chosen collection of the couple's most treasured memories, starting with their wedding day and ending with the present. Every page becomes a time capsule that captures their journey and serves as a reminder of the happy times, obstacles overcame, and enduring love.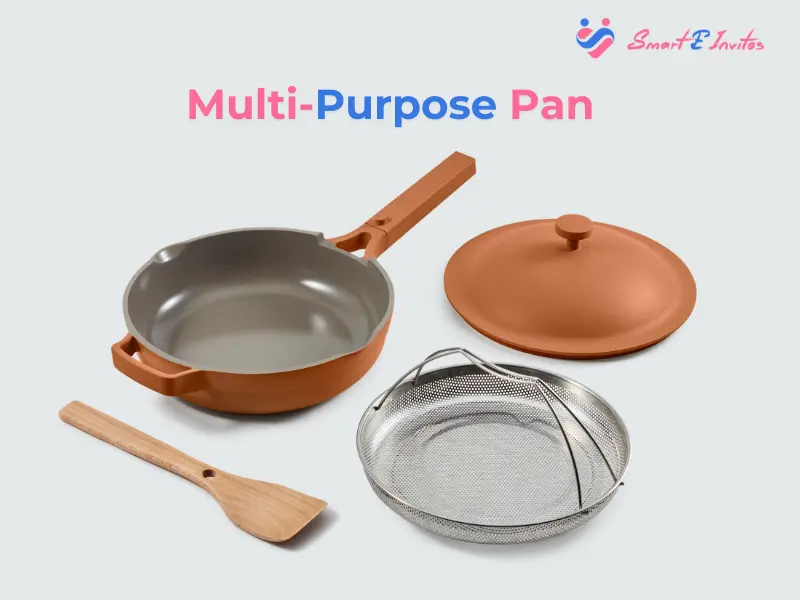 When it comes to choosing a wedding anniversary gift for your friends, practicality and thoughtfulness often go hand in hand. One gift that beautifully embodies both these qualities is a multi-purpose pan. Far from being just another kitchen utensil, a versatile pan can become an essential tool in their culinary adventures and a symbol of the enduring warmth and love they share.
The beauty of a multi-purpose pan lies in its adaptability. From sauteing vegetables and searing meats to whipping up pancakes and stir-fries, this kitchen essential can handle a wide range of cooking techniques. It allows your friends to explore their culinary creativity to the fullest.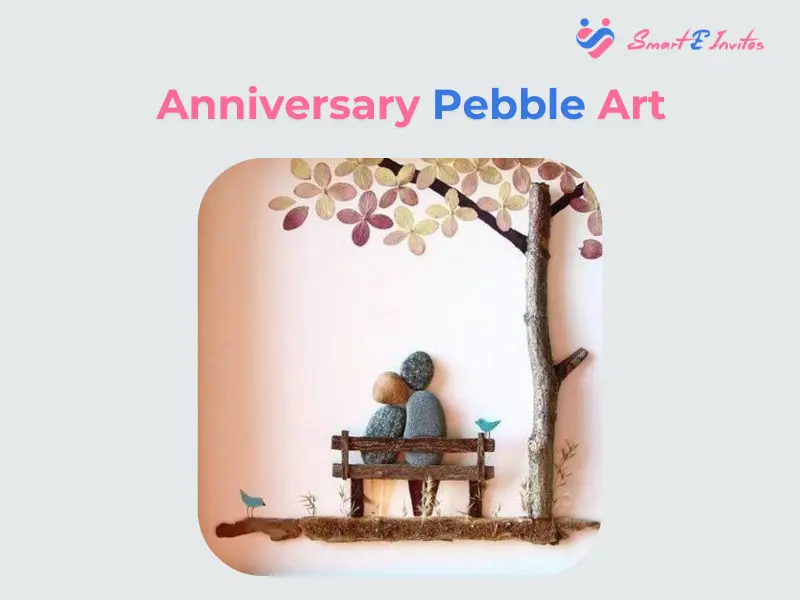 Anniversary Pebble Art is more than just an art piece; it's a sentimental keepsake that encapsulates the journey your friends have travelled together. One of the most appealing aspects of Anniversary Pebble Art is its customizability. The arrangement of pebbles and elements in the art piece can be imbued with symbolism. Consider incorporating elements like two intertwined pebble paths to represent their journey together or a heart-shaped arrangement to symbolize their love.
Surprising Gifts For Your Friend On Wedding Anniversary
While traditional gifts like flowers and chocolates are always appreciated. You can explore the extra mile this year with a surprising and unique anniversary gift for your friend. It will truly capture the essence of their relationship.
You can set up an outdoor movie screening with their favourite film, cosy blankets, and fairy lights. It is a unique way for them to enjoy a romantic movie night under the starlit sky. Here are some of the best marriage anniversary gift ideas for friends.
When it comes to celebrating a cherished milestone like a wedding anniversary, finding a gift that encapsulates the depth of emotions and memories can be quite a task. You can choose a personalized LP (vinyl) record for your friends on their wedding anniversary. LP records carry an air of sophistication and nostalgia that transcends time. Gifting your friends a personalized LP record on their anniversary is like giving them a piece of history wrapped in a contemporary sentiment.
You can choose a collection of songs that hold special meaning for your friends' relationship. From their first dance at the wedding to songs that remind them of cherished moments, each track will tell a chapter of their love story.
While material presents are appreciated, the gift of shared experiences can creating a long lasting memories and strengthen the bond between a couple. You can elevate their anniversary celebrations by surprising them with a romantic hot-air balloon ride. Floating above the world together will create a sense of enchantment and provide breathtaking views that symbolize the heights of their love.
Also, you can prepare a surprise picnic by a serene lake, beach, or park. Pack their favourite foods, a cosy blanket, and some games to enjoy a day of relaxation and connection in the great outdoors.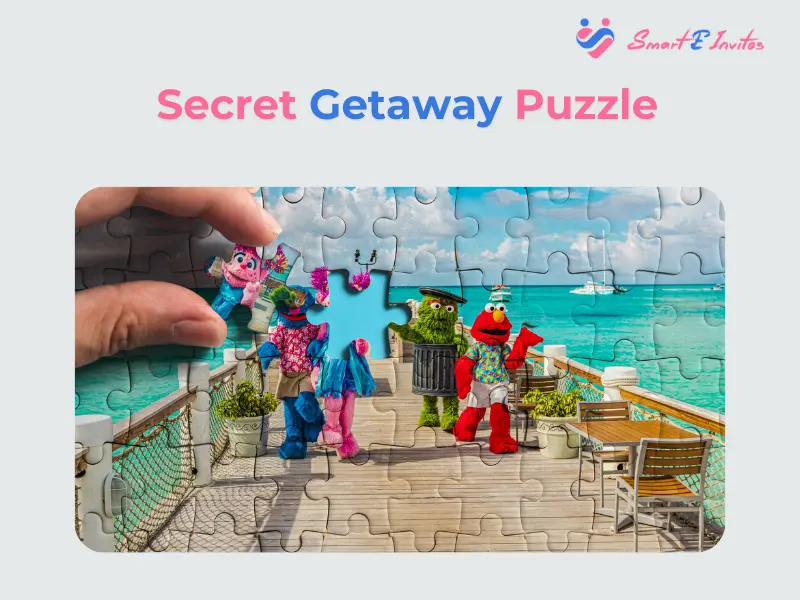 You can create a puzzle that reveals details of a surprise getaway you have planned for them. It could be a weekend escape to a charming location, allowing them to relax and rejuvenate in each other's company.
DIY Marriage Anniversary Gifts For Friends With Different Themes
There is no better way to convey your heartfelt congratulations on your friends' wedding anniversary than with a unique and considerate DIY present. Your DIY gift can become even more customised if aligns with their liking by including a distinctive theme.
Travel-Themed Anniversary Gift
You can create a Travel Memories scrapbook or photo album filled with pictures from their trips together. Also, you can include captions, ticket stubs, and mementoes from their travels. You could also make a world map with pins to mark the places they've been.
Garden-Themed Anniversary Gift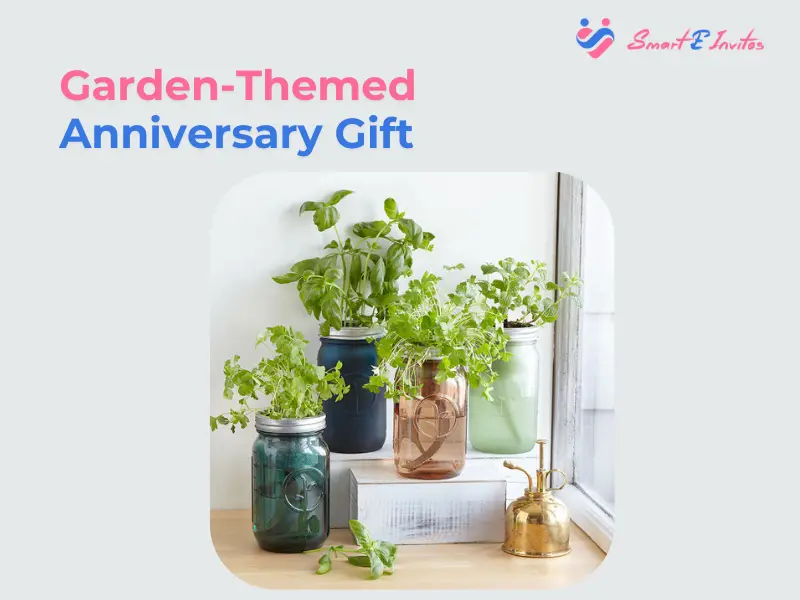 For friends who enjoy gardening, you can put together a Love Grows package. You can include packets of flower or herb seeds, along with personalized plant markers. Also, you could also paint or decorate flower pots and fill them with their favourite blooms.
Retro Romance-Themed Anniversary Gift
You should take them back in time with a retro-themed anniversary gift. Additionally, you can create a playlist of songs from their wedding era, and design a vintage-style menu for a home-cooked dinner. Also, you can ensure the dress up in vintage outfits during the marriage anniversary celebration of friend.
In this way, you can create a retro love story scrapbook. It will not only celebrate your friend's anniversary but also transport them back in time, evoking the romance of a bygone era. It is a thoughtful gift that captures their unique journey and the timeless nature of their love.
Final Thoughts For Choosing Marriage Anniversary Gift For Friend
Selecting the perfect wedding anniversary gift for your friends is an opportunity to showcase your affection and admiration for their enduring love. The finest gifts are those that highlight the special connection the couple has. It can be through a personalised souvenir, a romantic encounter, or a sentimental reminder. You are not only celebrating their union but also fostering priceless memories that will be treasured for years to come by selecting a thoughtful and meaningful gift.
FAQs
Ques 1. What are some personalized gift options that can add a unique touch to your friends' wedding anniversary celebration?
Ans. You can gift wedding anniversary presents for friends like Customized Photo Albums or Scrapbook, Engraved Jewelry, Monogrammed Home Decor, Personalized Canvas Art, Customized Puzzle, etc. The key to selecting the perfect personalized gift is to consider the couple's preferences, interests, and the journey they have shared. Adding a personal touch to the gift will show that you have put thought and effort into making their anniversary celebration truly special.
Ques 2. Are there any memorable experiences you could gift your friends to create lasting memories on their special day?
Ans. Absolutely, gifting memorable experiences can be a truly meaningful and lasting way to celebrate your friends' wedding anniversary. You can gift your friends Hot Air Balloon Ride, Wine Tasting Tour, Couples' Spa Day, Adventure Activity, and others. When selecting an experience gift, you can consider their interests, hobbies, and personalities.
Creating a memorable experience tailored to their preferences will not only make their special day extraordinary. It also strengthens your bond with them through shared memories.
Ques 3. What can be an eco-friendly and sustainable anniversary gift for friends?
Ans. Certainly! Choosing eco-friendly anniversary gifts is not only thoughtful but also aligns with the values of caring for the environment. You can include Organic and Fair Trade Gift Basket, Upcycled Home Decor, Solar-Powered Gadgets, and Sustainable Attires, with reusable gift wrapping.
When selecting an eco-friendly anniversary gift, consider their lifestyle, preferences, and values. By choosing a gift that aligns with their commitment to sustainability, you are not only celebrating their special day but also making a positive impact on the planet.
Ques 4. What are some DIY anniversary gift ideas that you can create yourself, adding a personal and sentimental touch?
Ans. You can prepare Customized Recipe Book, Handwritten Letters, Photo Collage or Canvas, Customized Calendar, Video Compilation, Hand-Painted Ceramic Mugs, etc. Remember, the essence of a DIY gift is the effort and thoughtfulness you put into it. Personalize each idea to suit your friends' tastes and relationships, and your DIY anniversary gift is sure to touch their hearts.
Ques 5. How can you use technology to create a virtual anniversary celebration or a gift experience for your friends?
Ans. Using technology to create a virtual anniversary celebration can be a creative way to connect with your friends, especially if you are unable to celebrate in person. You can organise a Virtual Video Call Party, Online Movie Night, Video Messages Compilation, Virtual Dance Party, and others.
You can compile a digital photo album featuring the couple's journey from their wedding day to the present. Also, you can use storytelling tools to add captions and anecdotes to each photo, creating a virtual scrapbook.