Any couple will always recall the magic of their engagement. To commemorate this joyous event, you should show your immense love towards your favourite couple through gifts. Finding unique engagement gifts for couples is not always simple because engagements often do not have a registry.
You can throw an engagement party or simply celebrate with friends and relatives at home. We have compiled a list of the top romantic engagement gift ideas for couples to wow the wonderful pair. 
Fortunately, there are many different paths you may take conventional, distinctive, humorous, or personal. You can consider personalized engagement gift ideas that serve as a keepsake for engaged couples. A few of our favourites are a heart-shaped collage print, a personalised cutting board, and an engraved wine cooler.
A notebook for two people and a card game that uses the five love languages are some thoughtful engagement ideas. Moreover, it will help the newly engaged couple grow closer.
Engagement Keepsake Gifts For Couples To Show Dedication
Engagement is a special milestone in a couple's life, marking the beginning of their journey towards marriage. Celebrating this momentous occasion with engagement gifts for couples can show your love and support for the happy couple.
Whether you are looking for a sentimental keepsake or a practical item to help them start their life together. 
There are plenty of things to get you more excited, even if it is not your own engagement. You should celebrate a wedding, whether it's for a friend, a relative, or a coworker, with the ideal engagement gifts. Bring a romantic engagement gift to the couple's wedding shower or engagement celebration.
You will be sure to make your favourite couple shed joyful tears. Although they are not necessary, engagement presents are a great gesture to make for your loved ones. When you receive such an invitation, it is best to honour the event with a present for the happy couple.
25 Best Engagement Gift Ideas For Indian Couples In 2023
Celebrate your favourite pair with coordinating wine glasses, or mark the forthcoming wedding with personalised ornaments or others. Whatever you choose, we provide lots of starting points for you in the given list of engagement gift ideas for young couples.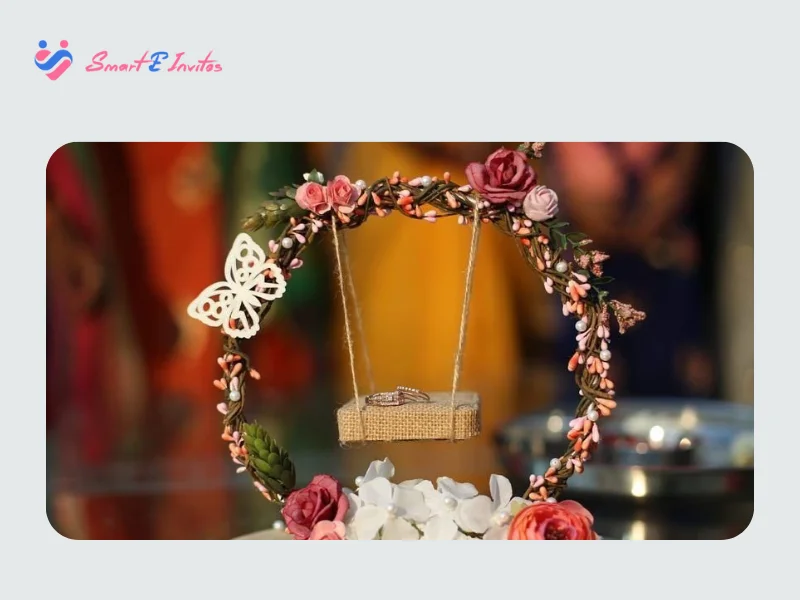 Every married couple needs a ring dish, and this particular one is very special because of its heart-shaped design. This may be customised with the couple's initials and a heart right in the middle. An engagement ring dish is a symbolic reminder of the commitment between two people.
When the bride-to-be is not wearing her engagement ring, she can store it there in safety and style. She puts her ring in the dish every time, a physical reminder of the vows they've made to one another.
Custom Engagement T-Shirts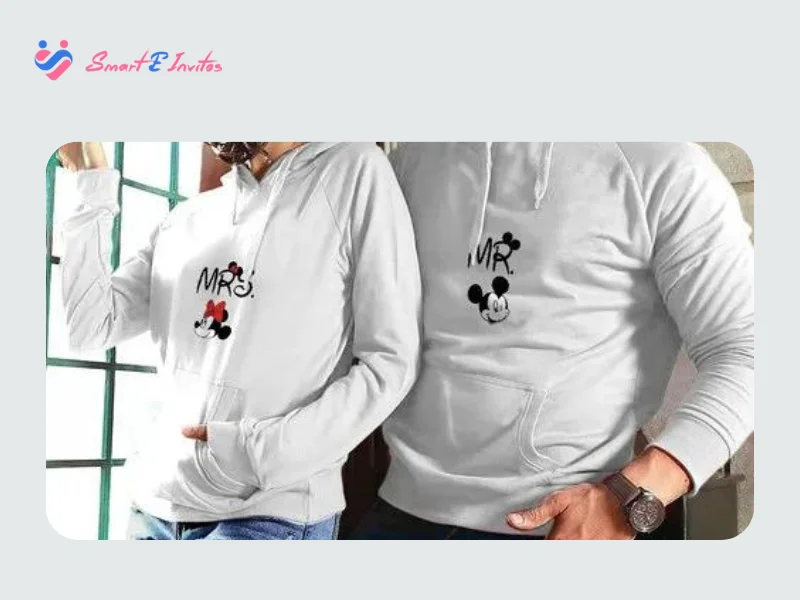 Custom T-shirts are one of the best gift ideas for newly engaged couples and this is certainly adorable. Choose from 17 colours and your own custom writing for a fully one-of-a-kind design that fits the personalities of any couple.
These personalized shirts are not only great for the engaged couple but can also make unique gifts for friends and family to commemorate the special occasion.
Couples can wear them for engagement parties, engagement photoshoots, or even gatherings with loved ones. Engagement T-shirts serve as wearable keepsakes that can be cherished long after the engagement period is over.   
A Mr. and Mrs. mug set is one of the meaningful gift ideas for a couple's engagement. These matching mugs, often adorned with "Mr." and "Mrs." are practical for daily use. It also represents the couple's devotion to and affection for one another.
These kits frequently provide numerous design options and customisation possibilities.
You can select mugs that are appropriate for the couple's style, which may be traditional, contemporary, rustic, or whimsical. Many sets also allow for customization with the couple's names, wedding dates, or a special message.
Whether it's a quiet morning at home, a weekend brunch, or a relaxing evening by the fireplace, these mugs enhance the experience.
A customized doormat makes one of the best engagement gift ideas for couples who have everything. This is special for a couple about to embark on their journey together.
It is one of the practical engagement gift options that can add a warm and welcoming touch to their new home. You can include their names, initials, or a special message that holds significance to them.
It is a reminder that their home is a place of love and hospitality. Unlike some traditional gifts, a customized doormat is both functional and sentimental. It's an attractive and personal addition to their front entrance that can make their house feel even more like a home.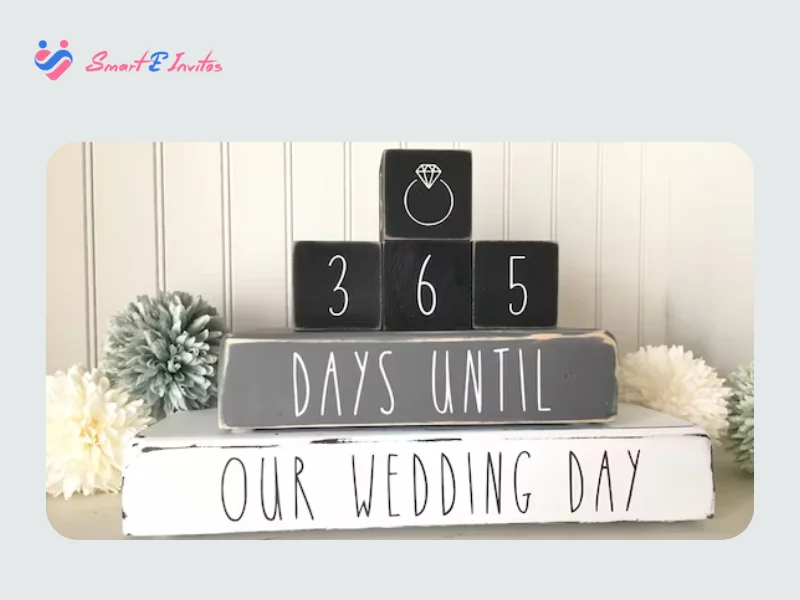 Gifting wedding countdown blocks to an engaged couple is a creative way to celebrate their upcoming wedding. It will help them count down the days until their special day of marriage.
This is one of the memorable engagement gifts for couples to remember all the time the date of the wedding. Each day they update the blocks, it brings them one step closer to their dream wedding.
Countdown blocks can also be incorporated into engagement photoshoots. The couple can use them to capture creative and memorable images that reflect their love and excitement during this special time.
Personalized Engagement Ornament
A personalized engagement ornament is one of the unique engagement gift ideas for couples to celebrate an engaged couple's special moment. This adds a beautiful addition to the home. It acts as a memento of this event in their lives.
Engagements are a unique and memorable time in a couple's life. A personalized ornament allows the couple to commemorate this period and celebrate the love and commitment they share as they prepare for their wedding day.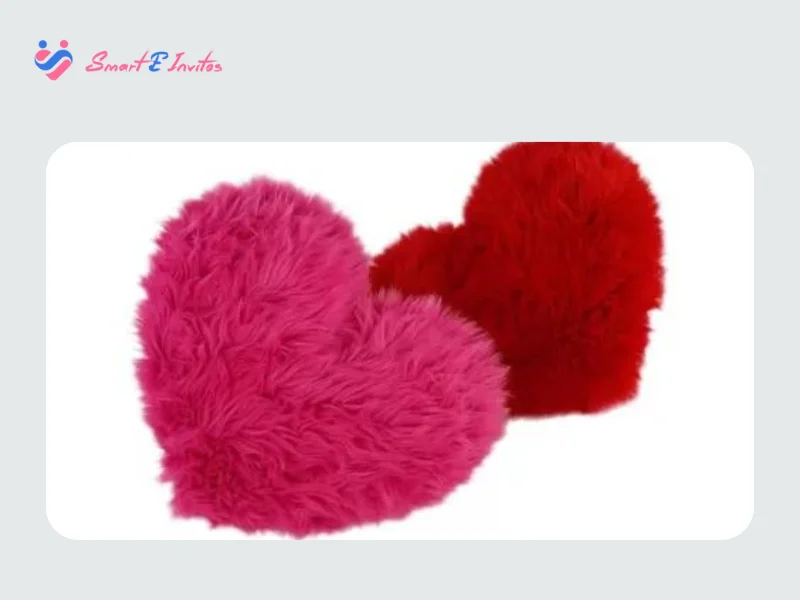 A Pink Heart Pillow can be a lovely engagement gift for a couple, especially if you know that they appreciate sentimental and decorative items. If possible, consider personalizing the pillow with the couple's name, engagement date, or a heartfelt message.
This adds a special touch to the gift. Choose an appropriate size for the pillow. It can be a decorative accent for their home or a cosy addition to their bedroom or living room.
8-Inch Distressed Wood Digital Photo Frame
Beginning a new chapter together will result in a wealth of new memories to be recorded. With this digital photo frame, they will never run out of room on their walls or bookshelves. It has a choice of colours and an LED screen that clearly displays photographs. All you need to do is insert a flash drive or SD card. 
Handmade felt flowers can be one of the beautiful engagement gift ideas for her and him. They stand for adoration, development, and the start of a fresh chapter in their life. Think about the colour preferences of the pair or the colouring design of their house.
You can create felt flowers in these colours to make handmade engagement presents for couples more personal.
Create a variety of felt flowers in different shapes and sizes. You can make roses, daisies, tulips, or any other flower that holds significance for the couple. Write a heartfelt message or congratulations card to go along with the flowers.
Express your joy for their engagement and your best wishes for their future together.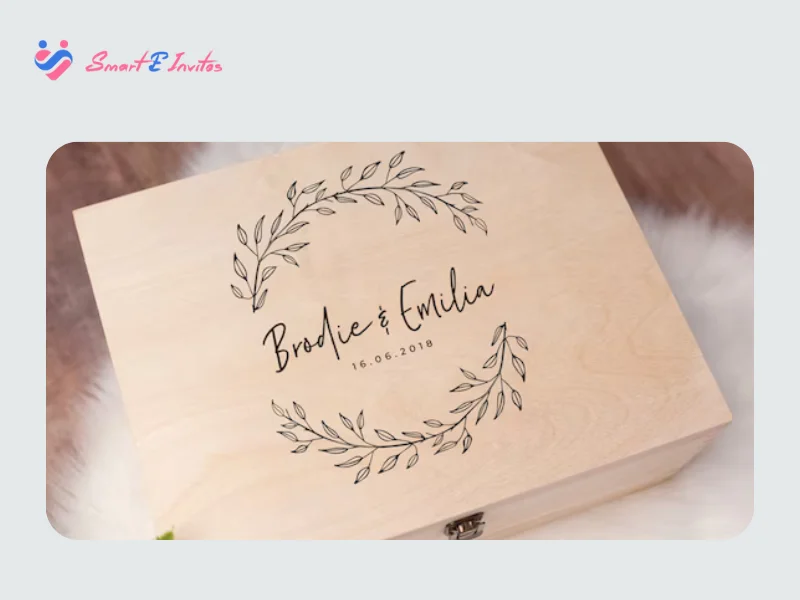 An Engagement Keepsakes Box is one of the luxury engagement gift recommendations for couples. It provides them with a special place to store and cherish mementoes from their engagement and the journey leading up to their wedding day.
Every couple needs a unique keepsake box to help them organise their jewellery, love letters, and other items. This lovely choice is available in a variety of hardwood finishes and can have a personalised inscription etched on it.
These beautiful shadow boxes are made of origami and are modelled after famous movie couples. Regardless of whether they like "Star Wars," "Game of Thrones," "The Lord of the Rings," or Disney movies, it provides couples with special engagement experiences.
Consider a motif or topic that relates to the relationship of the pair. For example, if they love travel, you could create a shadow box with travel-themed items. If they share a passion for music, incorporate musical elements.
An audio smart speaker can be one of the fantastic engagement party gift ideas for couples. It provides them with the gift of music and smart home functionality. If the couple enjoys music, prioritise a speaker known for its good audio performance.
Think about whether they like a bass-heavy audio profile or a more balanced one. The majority of smart speakers have speech assistants like Apple's Siri, Google Assistant, or Amazon Alexa built-in. Make sure the couple is comfortable with the voice assistant associated with the speaker.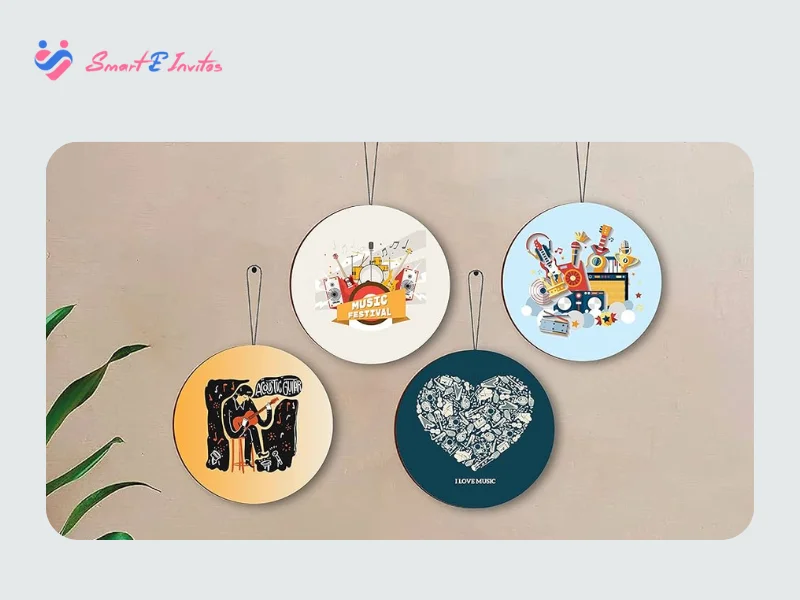 Love decor plates can come in various forms, such as decorative wall plates, ceramic plates with love-themed designs, or personalized plates. Consider what would best suit the couple's style and the space in their home.
Encourage the couple to find a special place to display the plate, such as in their living room, bedroom, or dining area. A love-themed plate can serve as a constant reminder of their love and commitment.
Bed Sheet and Pillow Cover Set 
Giving a set of magnificent bed sheets to a couple is always one of the best and safest things you can do. Sets of bed sheets and pillowcases are practical and affordable engagement gifts for couples beginning a new life together.
If you do choose to do that, make sure your present is of excellent quality and has a pleasing print or pattern.
Another excellent present for a party-loving couple. The cabinet bar set is one of the perfect engagement gift ideas for wine lovers and can be a travel companion.
With a collection of bar necessities like a cocktail shaker, a hip flask, a waiter knife, a bottle opener and a tong, it contains whisky glasses. Since this bar set includes such a large selection of bar crockery and cutlery, we are very certain it is a great deal. 
Tissues and tissue boxes really can save lives, believe it or not. This charming yet very practical antique tissue box can be positioned anywhere in the house. The radio transistor tissue box's genuine appearance and touch of gold complement its visual appeal.
Who doesn't enjoy a quirky, artistic atmosphere? This is portable also so it is one of the best engagement gift ideas for adventure couples. 
Double Decker Organiser Rack
A stylish yet beautiful kitchen rack is the ideal approach to enhance someone's kitchen counter. This organiser rack features detachable trays and is available in different designs.
It can hold everything, including kitchen towels and utensils. These racks are the ideal engagement gift ideas for foodie couples. Because they can basically be used to store anything and they have such a lovely appearance.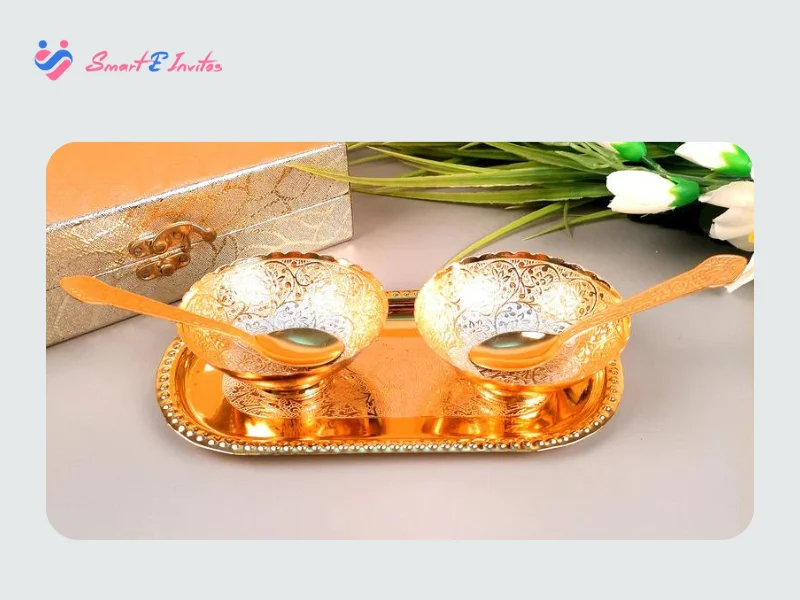 The dessert dish and bowl gift set is one of the DIY engagement gift ideas for couples. This handpainted set is incredibly stunning and will undoubtedly make the ideal engagement gift.
Consider the couple's taste and home decor style when selecting the design and style of the plates and bowls. You can go for classic and elegant designs or opt for something more contemporary or whimsical, depending on your preferences.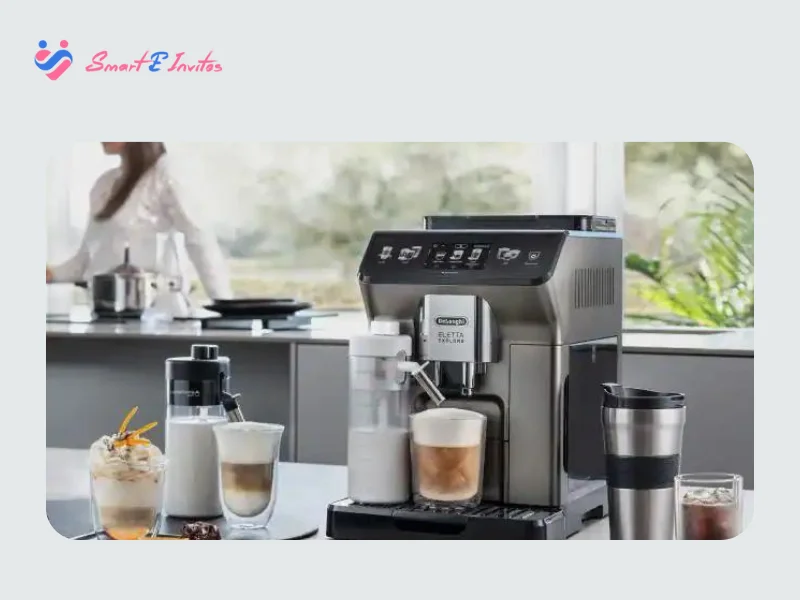 Nowadays, coffee machines are a must-have for anyone who needs their daily dosage of caffeine to start the day. This coffee maker is one of the engagement gift basket ideas if a couple genuinely appreciates a delicious cup of coffee made from pure beans.
All one needs to do is add the ground coffee to the maker and it will brew about 7 cups of coffee at once. 
A non-stick cookware set can be one of the great engagement couple's gift ideas. It is best for those embarking on their journey together in the kitchen. Invest in a high-quality cookware set that will last for years.
Look for reputable brands known for their durability and performance. Stainless steel or hard-anodized aluminium with a non-stick coating is often a good choice.
Organic handmade soap can make one of the creative engagement gift ideas for couples. It is a practical and eco-friendly choice that can add a touch of luxury to their daily self-care routines.
Present the soap in an elegant gift box, a reusable basket, or a decorative dish. Adding a bow or ribbon can enhance this thoughtful gift. Include a heartfelt engagement card to convey your best wishes.
A waffle maker can be one of the best engagement gift ideas for an outdoorsy couple who enjoys cooking. It helps them in spending time together in the kitchen. Waffle makers come in various styles, including stovetop waffle irons, electric waffle makers, and Belgian waffle makers. Choose one that suits the couple's kitchen setup and preferences.
A crystal heart frame can be one of the romantic engagement gift suggestions for a couple. It offers a way for them to display a cherished photo from their engagement or a special memory.
To make the gift extra special, consider getting the frame personalized. You can have the couple's name or a heartfelt message engraved on the frame. If you have a photo in mind, consider selecting a meaningful picture to include with the frame.
With these mild cleaning pads, you can help the couple maintain the lustre of their wedding jewellery as well as any jewellery. There is no waste because each pad is reusable and they work on all types of stones and metals. The box is also adorable enough to keep on the vanity in the bathroom.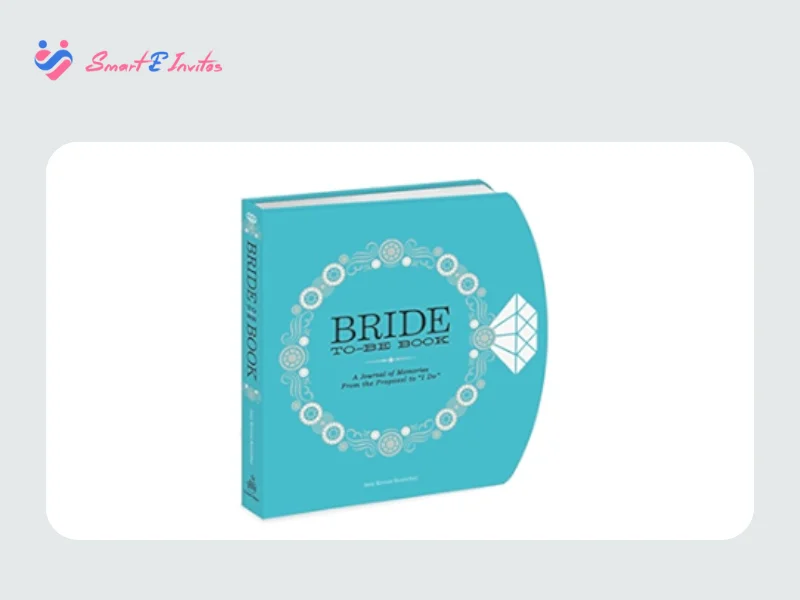 This bride-to-be diary will let your sister, daughter, or best friend document all of life's great moments, from the marriage proposal to the final "I do." We all know how busy she will be arranging the wedding, so the thought-provoking prompts are brief and to the point. 
Conclusion
Choosing the perfect engagement gift involves considering the couple's interests and personalities. Whether you opt for a sentimental keepsake, a practical item, or an exciting experience, your thoughtful gesture will undoubtedly be appreciated as they embark on this exciting journey toward marriage.
FAQs
Ques 1. What can be a perfect couple's gift for an engagement party?
Ans. Selecting the perfect engagement party gift depends on the couple's preferences and your relationship with them. It can be Cookware or Kitchen Essentials, Home Decor Items, Picture Frame, Personalized Keepsake Box, etc.
Ques 2. What are the budget-friendly engagement presents for couples?
Ans. You can create a Date Night Jar, Photo Album, Board Game or Puzzle, Recipe Cards, etc. Affordable engagement gifts include Cooking Utensils, Coffee or Tea Sets, Candles, custom-engraved keychains, etc.
Ques 3. What is considered to be the classic engagement gift?
Ans. As an alternative to cash, a quality bottle of wine or champagne, possibly with two glasses or flutes for toasting, is a common gift option.