An engagement marks the beginning of a beautiful journey toward lifelong togetherness. And what better way to celebrate this momentous occasion than with a heartwarming engagement party?
As you plan your special event, one essential aspect is crafting the perfect engagement invitation message.
Creative Engagement Invitation Message Ideas
To help you set the tone for your celebration, we have compiled various engaging and creative invitation message ideas.
Classic Elegance Engagement Invitation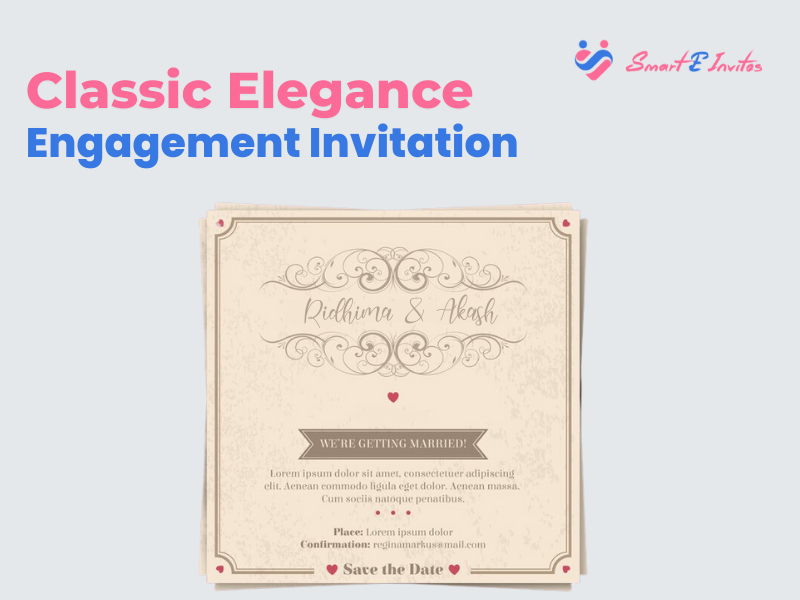 The Classic Elegance engagement invitation message exudes a timeless charm and sophistication, setting the tone for an elegant celebration of love. Moreover, it embraces a refined and graceful style reminiscent of traditional values and romance.
Typically, this type of invitation message uses poetic language and eloquent phrases. Also, the Classic Elegance engagement invitation message aims to create an atmosphere of sophistication. In addition, it helps invite guests to share the couple's love story and the beginning of their beautiful union.
Example:
"Love is a journey of two souls embarking on a path of togetherness. We joyfully invite you to share in our love story as we exchange engagement rings. Join us for an evening of love, laughter, and celebration."
Engagement Invitation With A Romantic Rustic Charm 
The Romantic Rustic Charm-filled engagement invitation message encapsulates the enchanting blend of love and nature's simplicity. Also, it radiates a warm, cozy, and heartfelt ambience, inviting guests to celebrate love in its purest form. 
Moreover, this style of invitation message often evokes the feeling of a countryside romance. It promises an intimate gathering filled with love, laughter, and memorable moments amidst the beauty of the great outdoors. Moreover, this couple's love story engagement invitation invites guests to share the magic of love.
Example:
"Amidst nature's beauty and under a starlit sky, we found love and decided to tie the knot. Join us as we mark the beginning of our journey together in an intimate rustic engagement party. Your presence would make our hearts bloom."
Whimsical Fairy tale Love Filled Engage
Engagement Invitation
The Whimsical Fairy tale Love-themed engagement invitation message transports guests to a magical realm where love stories come to life.
Moreover, it weaves a captivating narrative, resembling the pages of a storybook filled with enchantment and dreams.
However, this invitation style indulges in imaginative and poetic language, inviting loved ones to witness the unfolding of a fairy tale romance. 
Along with this, embracing the spirit of true love's magic, this invitation welcomes guests to share in the couple's journey.
Example:
"Once upon a time, in a world of dreams, two hearts found each other and fell in love. Our fairytale is coming to life as we take the first step towards forever. You are cordially invited to be a part of our magical engagement celebration."
Modern Love Affair Engagement Invitation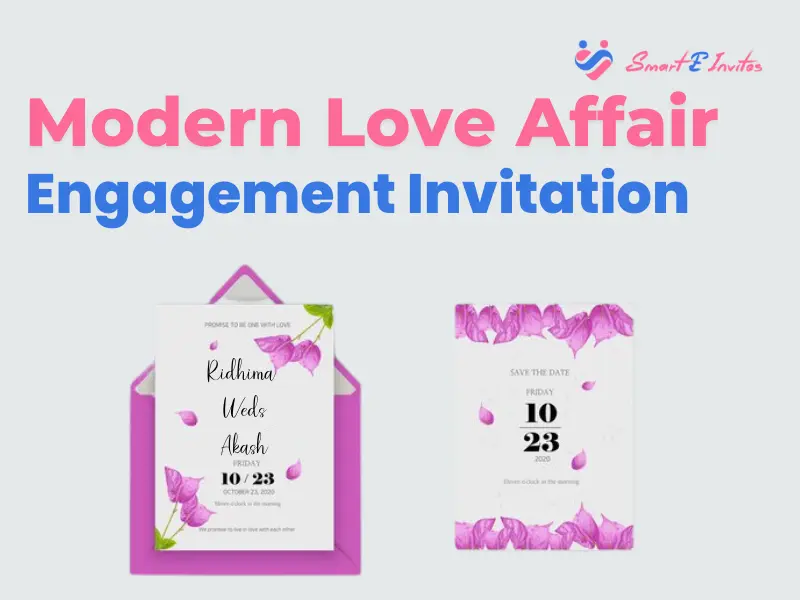 This engagement invitation exudes contemporary elegance and celebrates love in a chic, sophisticated style. With the essence of modern romance, this invitation seeks to capture the spirit of the couple's unique love story.
It also promises an event that reflects the couple's personalities and love. Moreover, the Modern Love Affair engagement invitation message uses concise and trendy language.
Therefore, expect a night filled with laughter, heartfelt connections, and a celebration of love.
Example:
"Our hearts skipped a beat, and we knew it was fate! We are thrilled to announce our engagement and invite you to be a part of our modern love affair. Join us for a stylish celebration filled with memories, laughter and love to cherish."
Engagement Invitation Where Adventure Awaits
The Adventure Awaits engagement invitation message promises a thrilling and unforgettable celebration of love. Moreover, this invitation style is about embracing the spirit of adventure and embarking on a journey of togetherness.
It invites guests to join the couple as they set sail into a lifetime of love and exciting experiences. Along with this, the message entices loved ones to participate in a memorable event filled with laughter, joy, and cherished moments.
Example:
"Love is an adventure, and our journey has just begun. Join us for an engagement celebration filled with wanderlust as we set sail on a new chapter of life together. Let's make some memories that will last a lifetime."
Vintage Glamour Engagement Invitation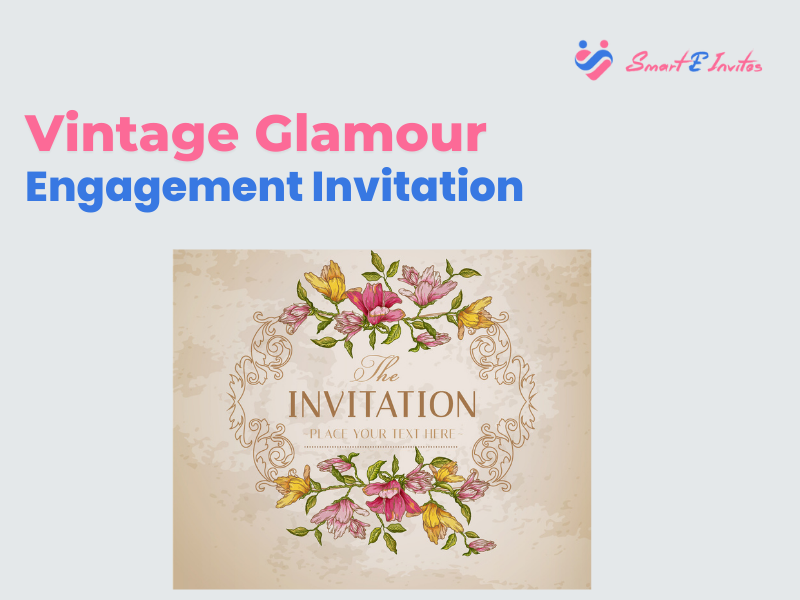 The Vintage Glamour engagement invitation message exudes timeless sophistication and glamour from a bygone era. Embracing the allure of vintage aesthetics, this invitation style brings forth a sense of nostalgia and elegance.
Apart from this, it transports guests to refined charm and romance with intricate designs, ornate fonts, and classic motifs. 
Moreover, the Vintage Glamour engagement invitation message invites loved ones to witness the couple's love story unfold. Therefore, expect an evening filled with grace, style, and an enchanting ambience that captures the essence of love's timeless allure.
Example:
"Timeless love deserves a touch of vintage glamour. Step back in time with us as we celebrate our engagement with a touch of elegance and sophistication. Your presence will add sparkle to our already shining day."
Bollywood Bash Engagement Invitation
The Bollywood Bash engagement invitation message brings forth the vibrancy and excitement of Indian cinema. Bursting with colours, music, and dancing, this invitation invites guests to a night of festive revelry and Bollywood beats. 
However, with glitz and glamour, it promises a fusion of traditional elegance and modern flair. Moreover, the Bollywood Bash invitation sets the stage for a lively, joyful celebration.
Example:
"Drama, dance, and a dash of romance! Join us for a Bollywood-inspired engagement party as we celebrate our love with colours, music, and Bollywood beats. Get ready to groove the night away!"
Engagement Invitation Signifying Sweet Love 
The Sweet Love-filled engagement invitation is a delightful celebration of love's sweetness and charm. With a focus on affectionate gestures and heartfelt emotions, this invitation style radiates warmth and tenderness.
Moreover, the Sweet Love Event engagement invitation invites guests to an evening of love. As a result, these delightful treats symbolize the sweetness of the couple's relationship. 
Example:
"Love is sweet, and so is life with you by our side. Join us for a sweet love soiree, where we'll share laughter, stories, and delightful treats."
The Bottom Line
Your engagement is a moment of pure joy and excitement; the right invitation message will set the tone for your celebration. 
Therefore, let these invitation message ideas spark your creativity as you embark on a new chapter of life together.
FAQs
Ques 1. What should be included in an engagement invitation message?
Ans. Include the couple's names, date, time, venue, and RSVP details, and warmly request the recipient's presence at the celebration.
Ques 2. Can I use a casual tone in my engagement invitation message?
Ans. Absolutely! Use a casual tone, especially if it matches the theme or reflects your relationship with the guests.
Ques 3. How far in advance should I send out engagement invitations?
Ans. It's recommended to send out the engagement invitations 6 to 8 weeks before the celebration.
Ques 4. Can I personalize engagement invitation messages for different guests?
Ans. Yes, definitely! Feel free to customize the messages to suit each guest's individual relationship and preferences.