The engagement party is one of the most special moments leading to your wedding. Why not make it more memorable with a unique and creative engagement invitation card? However, this blog will dive into the creative ways to design your engagement invitation card, from traditional elegance to modern marvels.
Know About Ways To Design Engagement Invitation Card
Below are the creative ways to design engagement invitation card to make your special day memorable.
Personalized Paper cut Engagement Invitation Design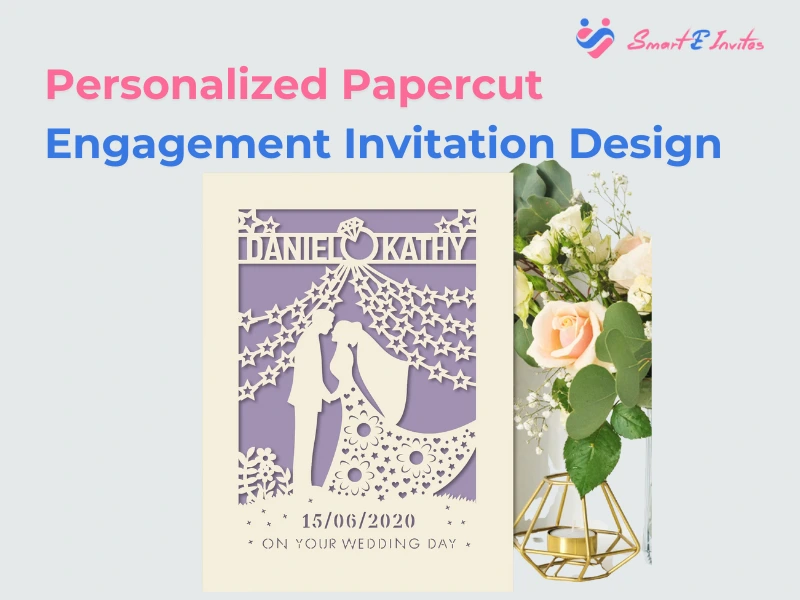 Who doesn't love a touch of magic in their lives? Imagine opening an envelope to find a finely designed paper-cut engagement invitation. Personalized paper cut cards are works of art that will make guests feel truly cherished.
The possibilities are endless, from delicate floral patterns to intertwined hearts. You can even add your name and engagement date for that extra personal touch. Each card becomes a keepsake, a tangible reminder of your love story.
Vintage Wax Seals Engagement Invitation Design
Want to transport your guests to a bygone era of elegance and romance? Wax seals are the perfect choice for your engagement invitation cards.
The act of melting wax and pressing a seal lends an air of nostalgia and sophistication. Moreover, you can choose classic monograms, initials, or a symbol representing your journey as a couple.
Vintage-inspired designs paired with quality paper will leave your guests feeling like they've received a precious treasure.
Dreamy Water Colour Engagement Invitation Design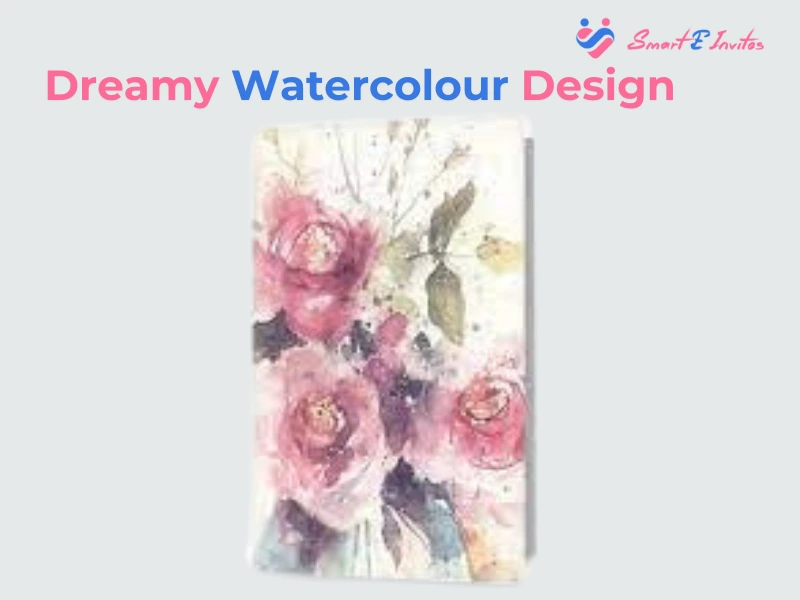 Watercolors are your best friends if you want to infuse your invitation with dreamy vibes. Let the hues flow and blend gracefully across the paper, creating a mesmerizing effect.
Whether you choose soft pastels or vibrant splashes, watercolors add an artistic touch to your engagement invitation card. This style also works great for nature-loving couples. You can add flowers or paint a picture that reminds you of your chosen spot
Rustic Kraft Paper Engagement Invitation Design
For the nature-loving, laid-back couple, kraft paper is an excellent choice. Its raw, earthy texture exudes rustic charm and simplicity. Moreover, you can experiment with different fonts, ink colours, and illustrations to create a design that reflects your personality.
However, consider tying your invitations with twine or adding dried flowers as a delightful finishing touch. Your guests will appreciate the eco-friendly aspect of these invitations too!
Creative Pop-Up Engagement Invitation Design
Ready to take your engagement invitation to the next level? Pop-up invitations are incredibly fun and unexpected. When family and friends open the card, a 3D scene of the couple appears, making a really happy moment.
It is a recreation of your proposal or a representation of your shared interests. Moreover, these cards will undoubtedly stand out and become a conversation starter among your guests.
Elegant Calligraphy Engagement Invitation Design
There's something undeniably captivating about calligraphy—it adds a touch of elegance to any design.
A beautifully handwritten engagement invitation card exudes a personal and intimate feel. Moreover, you can choose from various calligraphy styles, from classic and formal to modern and whimsical. Combine it with foil stamping or embossing for an even more luxurious look. As a result, your guests will be in awe of the artistic craftsmanship.
Modern Minimalist Engagement Invitation Design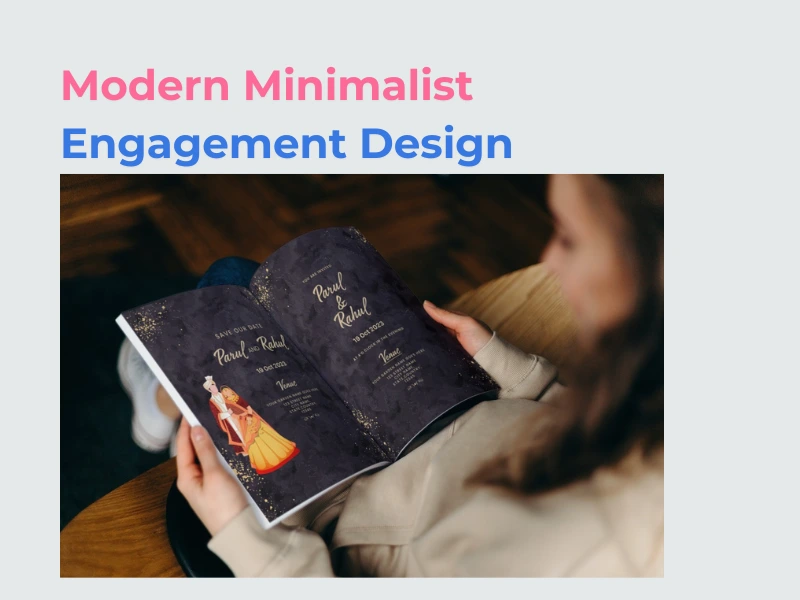 Minimalist engagement invitation cards are all about clean lines, ample white space, and understated elegance. Embrace simplicity and let the words and design speak for themselves.
Use bold typography and thoughtful placement to create a modern and stylish card. This style is ideal for couples who appreciate contemporary aesthetics and wants their love story to take center stage.
Wanderlust Engagement Invitation Design
Are you having a destination engagement party in a dreamy location? Your invitation can reflect the excitement of the journey ahead! Choose a design that showcases the destination's iconic landmarks, local flora, or cultural elements.
Whether it's a beach, a city in Europe, or a mountain view, the guests will be excited for the upcoming engagement.
Collage-Style Engagement Invitation Design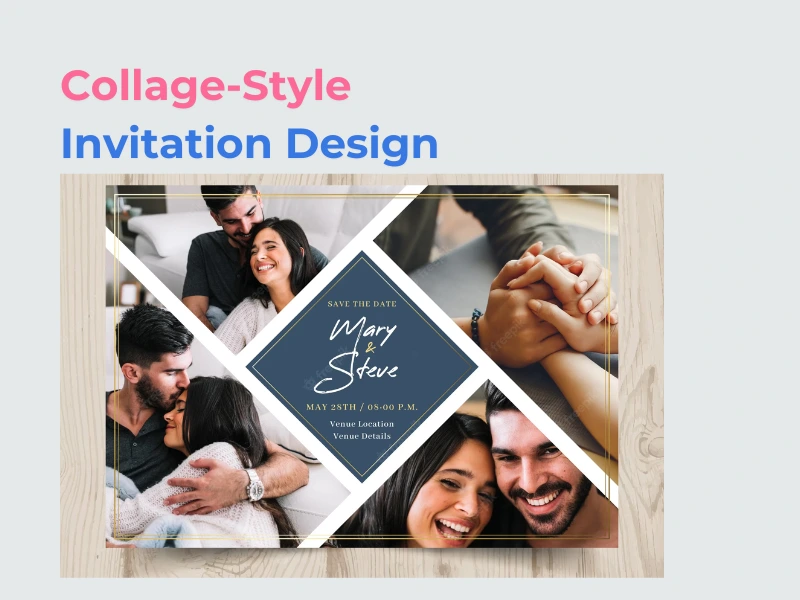 A picture is worth a thousand words, and a collage of your favourite photos is worth even more. Thus, gather your cherished memories as a couple and create a visually stunning engagement invitation card.
You can arrange the images in a heart shape, a timeline, or a playful mosaic. However, this style will not only make your guests feel happy, but it will also show your wonderful journey together.
Enchanted Engagement Invitation Design
Add a touch of pleasure to your engagement invitation with creative embellishments. Choose decorations that resonate with your wedding theme and style. As a result, these intricate details will make your invitation stand out.
Puzzle-Themed Engagement Invitation Design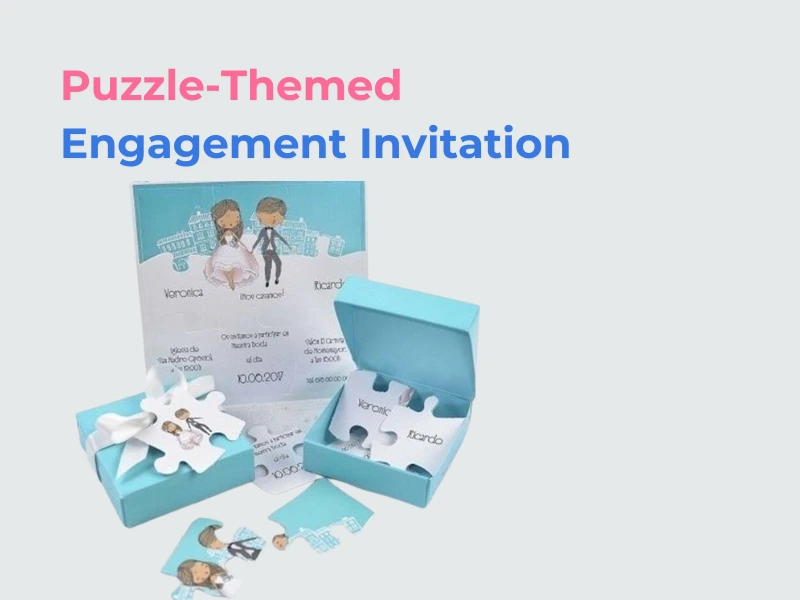 Get ready to puzzle your guests! A puzzle invitation is an exciting and interactive way to announce your engagement. Have your invitation designed as individual puzzle pieces, and send each guest a piece to complete the message.
Moreover, the anticipation of putting the pieces together will create a sense of joy and wonder. Plus, it's an excellent icebreaker for guests who might need to learn about each other better.
Let Your Love Shine With Glow-In-The-Dark Engagement Invitation Design
Want to make your engagement invitation truly memorable? Opt for glow-in-the-dark or UV-activated designs! These luminous invites will surprise and delight guests when they glow under the light or stars.
These invitations will leave a lasting impression, whether it's a subtle glow on your name or a stunning celestial scene.
Handmade DIY Engagement Invitation Design
Consider creating DIY engagement invitation cards if you're a crafty couple who enjoys personal touches. Embrace your creativity and make each card by hand, adding elements that reflect your unique love story.
DIY invitations will warm the hearts of guests and showcase love with hand-painted illustrations or pressed flowers from meaningful locations
Creative Material Engagement Invitation Design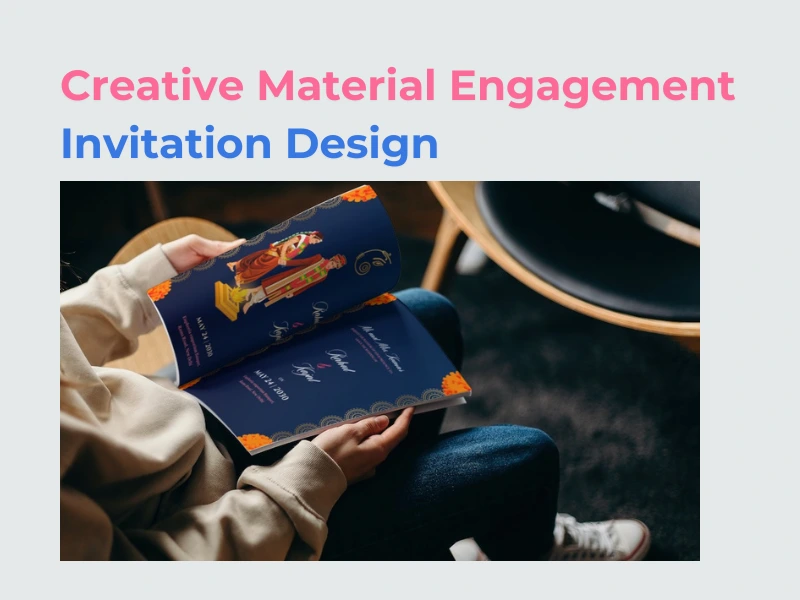 We should not limit engagement invitations to only paper. Explore unique materials to elevate your engagement invitation's look and feel.
Think transparent acrylic cards engraved with delicate details, wooden cards etched with your names, or even fabric invitations with embroidered designs. These unconventional choices will impress your guests and excite them to attend your special day.
Melodic Engagement Invitation Design
Add a melodic touch to your engagement announcement. Create musical invitations that play a romantic tune when opened. You can record a short message or song to accompany the invitation.
The Bottom Line
Your engagement invitation card is the first glimpse of your love story that your guests will receive. Moreover, embrace your creativity, and let it shine through in the design. Whether you choose personalised papercuts, whimsical watercolours, or enchanting embellishments, make it a reflection of your unique bond.
However, your invitation will convey the details of your celebration and leave a lasting impression of your love and excitement. So, have fun, experiment, and create an invitation that sets the stage for the wonderful journey ahead. Happy designing, and congratulations on your engagement!