Anniversaries are special milestones in a couple's journey together, celebrating their love and companionship. If it is your dear brother and Bhabhi's anniversary, then a perfect gift can convey your heartfelt wishes and appreciation for their relationship.
Do you want the anniversary of Bhaiya Bhabhi to be memorable and special? If so, you will undoubtedly require an anniversary gift for bhai and bhabhi to surprise and greet them.
All you have to do is choose the best gift for bhaiya bhabhi anniversary. Well, for that, you may purchase online bhai bhabhi anniversary gifts with the help of this blog. Whether you are looking for something traditional or unique, these anniversary gift ideas for bhaiya and bhabhi will surely make their anniversary a memorable one.
Top Anniversary Gift Ideas For Brother And Bhabhi In India
Finding the marriage anniversary gift for bhaiya bhabhi takes on a deeper meaning than merely exchanging material possessions. Moreover, it becomes a heartfelt gesture that resonates with the essence of their relationship. In addition, it conveys your genuine appreciation for the bond they share with each other. Here are some fantastic gift suggestions to think about:
1. Personalized Gifts For Brother And Bhabhi Anniversary
A thoughtful marriage anniversary gift for brother shows that you have put thought into choosing something that holds special meaning for him and Bhabhi. Also, this makes their celebration even more heartfelt. Collect cherished memories of your brother and Bhabhi and create a personalized photo album or frame. Include snapshots from their wedding, milestones, and happy moments throughout their journey. 
Capture their love in a custom couple's portrait. You can commission an artist to create a beautiful artwork based on a photo of your brother and bhabhi. Also, this piece of art will adorn their home and serve as a constant reminder of their bond. Consider gifting your bhabhi a delicate necklace or bracelet engraved with their wedding date, initials, or a meaningful message.
Moreover, these timeless personalized anniversary gifts for brother and bhabhi will always be close to her heart. You could also opt for a personalized family name sign or a set of monogrammed towels that add a personal touch to their living space.
2. Romantic Anniversary Gift Ideas For Brother And Bhabhi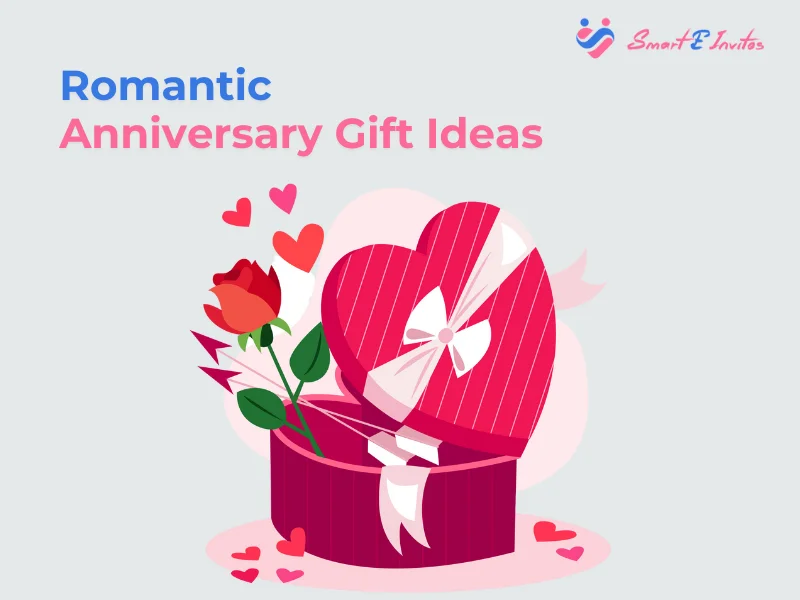 Celebrating your brother and Bhabhi's anniversary with a romantic touch can make their special day even more memorable. Whether they are still in the honeymoon phase or celebrating many years of togetherness, a romantic getaway is always cherished. Also, you can surprise them with a weekend getaway to a charming bed and breakfast, or a luxurious beachside resort. 
Encourage them to write love letters to each other and seal them in envelopes. Additionally, these letters can be opened and read on future anniversaries, serving as a beautiful time capsule of their feelings for each other. Plan a starlit picnic for them under the night sky. Pack their favourite snacks, a bottle of wine, and a cosy blanket.
Also, enjoying each other's company in a serene outdoor setting can be incredibly romantic. These thoughtful anniversary gift ideas for brother and bhabhi can help you kindle the flames of love.
3. Adventure Experiences As Wedding Anniversary Gift For Brother 
Why not spice up your brother's wedding anniversary celebration by including a little thrill and adventure? Adventures are a wonderful way to give them a special opportunity to honour their love while also fostering lifelong memories. Also, Treat your brother and his spouse to a romantic hot-air balloon ride. Soaring high above the landscape, they can enjoy breathtaking views and share a magical experience that symbolizes their love reaching new heights.
Arrange for a scenic helicopter tour that takes them on a breathtaking journey over their city or a beautiful landscape. It is a luxurious and exhilarating way to celebrate their special day. If they love the great outdoors, consider gifting them a zip-lining adventure.
They can zip through treetops and enjoy the rush of adrenaline while bonding over this unique and thrilling experience. Moreover, this is one of the best and most memorable anniversary gift options for brother and Bhabhi.
Send Trending Anniversary Gifts For Brother And Bhabhi
Choose an anniversary gift that resonates with your brother and Bhabhi's personalities and interests. Also, these trending ideas blend modernity with sentiment, making their celebration even more meaningful. Rather than a physical gift, opt for experiences that create lasting memories. 
Trending options include exciting tours on extreme roads, sailing expeditions, or romantic picnic setups. Consider personalized tech accessories like engraved phone cases, laptop sleeves, or wireless chargers. Moreover, these practical yet stylish items add a personal touch to their daily tech usage.
Upgrade their living space with smart home devices like a voice-controlled assistant or a smart thermostat. In addition, these modern gadgets blend convenience and technology, making their daily routines easier and more enjoyable.
In the background of digitalisation, virtual and augmented reality experiences have gained popularity. You can gift them a virtual or online cooking class, wine tasting, or online concert tickets. It allows them to enjoy a unique experience from the comfort of their home.
Surprise Gifts For Brother And Bhabhi on their Anniversary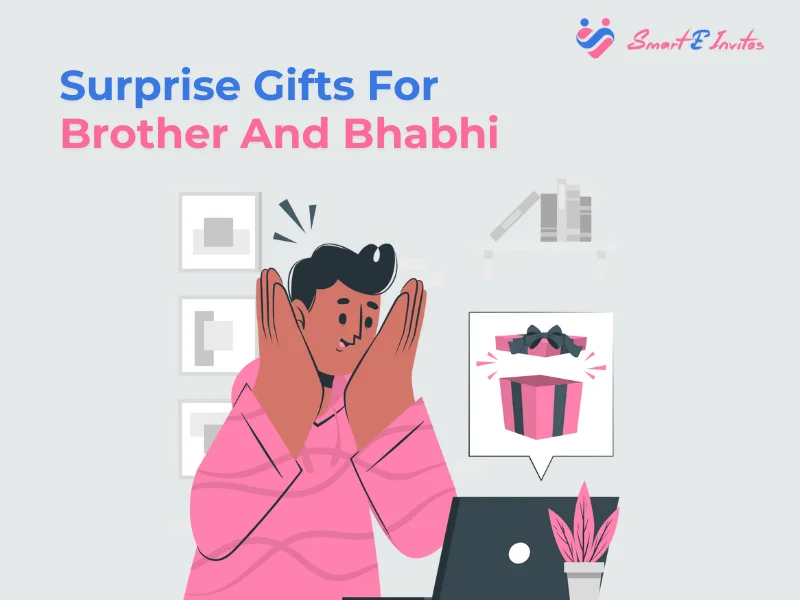 There are many surprise ideas for special anniversary celebration gifts for brother and bhabhi. Moreover, the best surprises are those that reflect your brother and bhabhi's unique relationship and personalities. Tailor the surprise to their tastes, and your thoughtful gesture will make their anniversary an unforgettable celebration of love.
Moreover, you can fill their room with helium balloons, each tied with a sweet message or memory. As they open the door, they will be greeted by a burst of love and nostalgia. Prepare a delicious breakfast and surprise them by serving it in bed. Add a bouquet of fresh flowers and a personalized note for an extra touch of romance.
Plan a scavenger hunt around their home, with each clue leading to a memorable spot where they have shared special moments. Also, the final clue could lead to the best anniversary gift for bhaiya and bhabhi. Collect video messages from friends and family sharing their good wishes and favourite memories.
Compile these videos into a heartwarming montage to surprise them. Write a heartfelt letter to your brother and bhabhi, roll it up, and place it in a decorative bottle. However, this charming surprise carries your warm wishes for their anniversary.
Budget-Friendly Anniversary Gifts For Brother And Bhabhi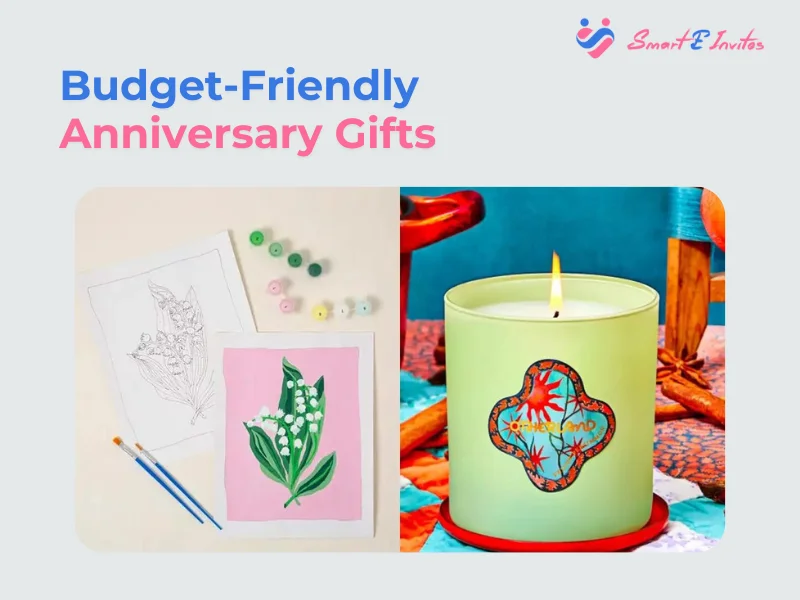 There is numerous budget-friendly anniversary gift for brother and bhabhi that still carries a lot of sentimental value. Collect their memorable photos and create a handmade photo album or scrapbook. Add captions and little anecdotes to make it one of the heartwarming anniversary gift ideas for bhaiya bhabhi.
Also, you can curate a playlist of songs that hold special meaning for them. Share it digitally or burn it onto a CD for a nostalgic touch. And, you can gift them a potted plant or a cute succulent that can symbolize their growing love and the nurturing aspect of their relationship. Decorate a jar and fill it with little notes, each containing a fond memory, a reason why you love them, or an inspiring quote.
Put together a movie night package with their favourite snacks, a cosy blanket, and a classic romantic movie. However, it's a simple yet enjoyable way for them to spend quality time together. Remember, the best anniversary gifts for bhaiya bhabhi come from the heart. Here are some top anniversary gift suggestions for brother and bhabhi:
1. Photo Frame As Anniversary Gift To Brother And Sister In Law
A photo frame is not just a simple object; it holds the power to preserve cherished memories, evoke heartfelt emotions, and become a timeless piece of history together. Additionally, it allows them to relive their wedding day or any other special moment captured in the photograph. Every glance at the frame will transport them back to that magical time, reminding them of the love and happiness they share.
2. Flower Bouquet As Best Anniversary Gift For Bhaiya Bhabhi
A flower bouquet is a classic gesture that can convey your warm wishes, love, and admiration to your bhai and bhabhi on their wedding anniversary. Also, the delicate beauty and fragrance of flowers mirror the tenderness and fragrance of their relationship. Flowers express volumes without saying a single word thanks to their own special language. Moreover, a carefully chosen bouquet can convey your heartfelt emotions, whether it's love, joy, or appreciation for their enduring bond.
3. Gift Hampers As Wedding Anniversary Gift For Bhaiya Bhabhi
Gift hampers offer a delightful way to shower with a variety of thoughtful presents. Also, these curated collections of goodies allow you to combine favourite treats, meaningful items, and useful surprises all in one package. Gift hampers can encompass a wide range of items, from gourmet treats to skincare products to personalized keepsakes.
In addition, this versatility ensures there is something for everyone's tastes. You can include items like scented candles, bath salts, and others in the hamper, providing them with tools for relaxation and self-care.
Final Words On Anniversary Gift Guide For Brother And Bhabhi
Choosing the best anniversary gifts for bhaiya and bhabhi requires considering their interests and the beautiful journey they have embarked upon together. Whether it's a personalized keepsake or a romantic getaway, your thoughtful anniversary gifts for brother and bhabhi will undoubtedly make a day to remember. In this way, you can celebrate the bond you share with them through unique anniversary gifts for brother and bhabhi.
FAQs on Anniversary Gifts For Bhaiya and Bhabhi
Ques 1. What are some anniversary gift ideas for Brother and Bhabhi in 2023?
Ans. Given the digital age, consider gifting them a package of virtual experiences. Also, this could include virtual cooking classes, online wine tastings, or even a personalized virtual concert. To enhance their daily routines, you can upgrade their living space with smart home devices like a voice-controlled assistant, smart lighting, or a smart speaker.
Also, you can gift them the experience of naming a star after them as a symbolic gesture of their eternal love. They will receive a star map and certificate to commemorate the occasion.
Ques 2. How can I surprise you with meaningful anniversary presents for my brother and Bhabhi?
Ans. Surprising your brother and bhabhi with meaningful anniversary presents requires careful thought and planning. You can consider what makes their bond special and how you can incorporate those elements into the surprise. Please choose a gift that reminds them of a special memory they share.
It could be a photo, a location, or an inside joke with sentimental value. Additionally, you can consider how you will surprise them. It could be a surprise party, a scavenger hunt, a heartfelt letter, or a creative presentation of the gift itself.
Ques 3. How do I choose the best anniversary presents for my brother and Bhabhi that reflect their relationship?
Ans. Choosing creative gifts for my brother and Bhabhi's anniversary that reflect their relationship involves understanding their personalities. Additionally, you can take into account their hobbies and passions. If they love cooking, a cooking class or gourmet kitchen tools might be fitting.
And, if they enjoy travel, a travel-themed gift could be ideal. You can choose a gift that evokes emotions. This could be a photo album of their journey together, a personalized keepsake, or a letter expressing your heartfelt wishes.
Ques 4. Are there any trending anniversary gift ideas for my Bhaiya and bhabhi for a modern touch?
Ans. Absolutely, there is several trending gift for Bhabhi on her marriage anniversary that can add a modern touch. You can offer eco-friendly gifts like reusable shopping bags, solar-powered gadgets, or indoor plants to embrace sustainability and modern living. If they enjoy challenges, consider gifting them a virtual reality escape room experience, allowing them to solve puzzles and mysteries together.
Ques 5. What is a budget-friendly yet meaningful gift for a bhai & bhabhi anniversary?
Ans. A budget-friendly yet meaningful gift for your bhai and bhabhi's anniversary can show your thoughtfulness without straining your wallet. Express your well-wishes, memories, and feelings in a heartfelt letter or poem. It's a timeless and personal gesture.
You can create a simple DIY craft, like painted mugs, hand-painted coasters, or a decorative candle holder. Moreover, handmade gifts hold special value. Collect memorable photos and create a photo collage. However, you can do this digitally or physically, using an old picture frame.