Your engagement ceremony marks the start of a beautiful journey together. So, what better way to kick-start the celebrations than with a perfectly crafted engagement ceremony invitation?
Your engagement party invitation wording reflects your personality as a couple and sets the mood for the event.
We have the perfect engagement party invitation wording ideas for you. Whether you prefer classic elegance, adventurous destinations, heartfelt stories, or cultural fusion.
List of Engagement Party Invitation Wording Ideas
This blog will describe the best engagement party invitation wording ideas to mark the journey of love. Moreover, these unique engagement invitation wordings will grab the attention of guests while adding elegance to the ceremony. 
Classic Elegance with a Formal Touch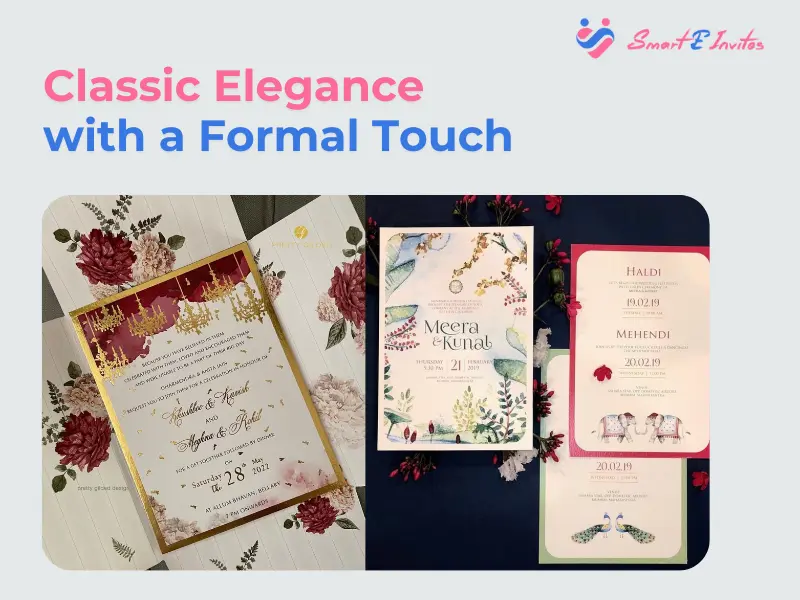 Timeless wording that reflects sophistication
Elegance never goes out of style. Capture the essence of sophistication with your engagement party invitations by using timeless phrases that evoke a sense of grace and refinement.
Using traditional phrases to announce the engagement
"Join us as we celebrate the union of [Your Names] in love and joy. Your presence is requested at an engagement soiree in their honor."
Incorporating honorifics and respectful language
"Mr. and Mrs. [Last Name] cordially invite you to an evening of celebration honoring the engagement of their daughter [Bride's Full Name] and [Groom's Full Name]."
Infusing Joy and Excitement
Conveying your happiness through lively language
Infuse your invitations with the happiness you're feeling. Moreover, let the excitement radiate through your words, inviting guests to share your love story's joy.
Using exuberant phrases to invite guests to share in the joy
"Get ready to celebrate love, laughter, and happily ever after! [Your Names] are thrilled to announce their engagement and invite you to join the festivities."
Adding playful words to create anticipation
"Love is in the air, and the party is on! Join us for an engagement ceremony that promises to be a night of laughter, dancing, and unforgettable memories."
Rustic and Charm-Filled Wording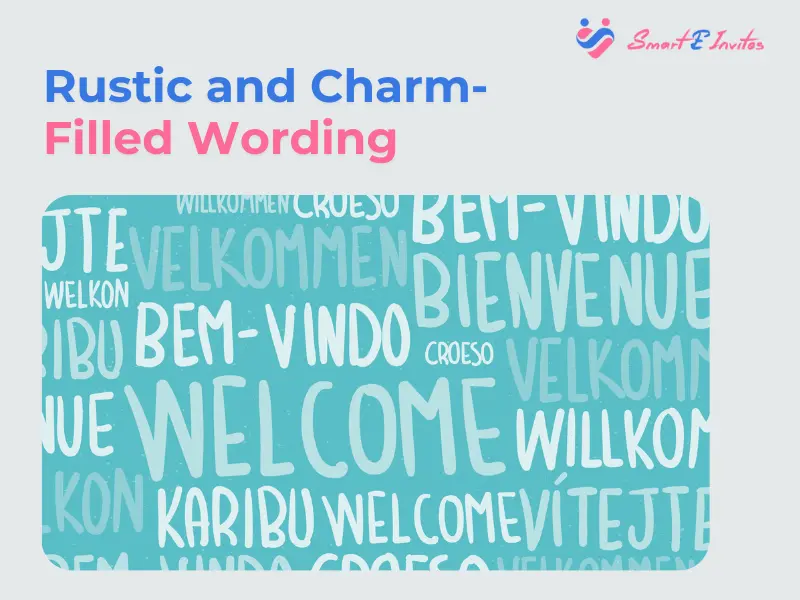 Embracing the rustic theme in your invitations
If your engagement party is all about rustic charm, let your invitations mirror the cozy and warm ambiance you plan.
Utilizing natural imagery and warm language
"Underneath the stars and surrounded by nature's embrace, we invite you to join us in celebrating the engagement of [Your Names]."
Blending informality with elegance for a cozy feel
"We're rounding up family and friends for a celebration that's as cozy as a campfire. Join us for an evening of love, laughter, and s'more memories!"
Destination Celebration: Wording for Adventure
Crafting invitations for a destination engagement party
For couples with a love for adventure, a destination engagement party is a dream come true. Let your invitations capture the thrill of exploring new horizons.
Evoking wanderlust with travel-inspired phrases
"Bags are packed, hearts are set—join us as we embark on a new journey of love and celebration in [Destination]."
Incorporating the excitement of exploring new horizons
"Our love has taken flight, and now we're taking the party to [Destination]. Come celebrate with us as we begin this exciting chapter!"
Love Story Unveiled: Wording from the Heart
Sharing your journey as a couple through words
Narrate your love story through your invitations, inviting your guests to be a part of the journey that led you to this moment.
Narrating key milestones and cherished moments
"From the first 'hello' to a lifetime of 'together forever,' join us as we unveil our love story and celebrate our engagement."
Creating a personal connection with your guests
"We've laughed, we've cried, and now we're ready to tie the knot. Join us as we share the moments that have brought us here, and celebrate the future that awaits."
Blending Traditions and Modernity
Melding classic wording with contemporary twists
If you and your partner hail from different backgrounds blend traditions and modernity seamlessly in your invitations.
Incorporating cultural elements and modern language
"Two worlds, one love. Join us for an engagement celebration that fuses tradition with modernity, just like [Your Names]."
Appealing to diverse tastes among your guests
"We're taking the best of both worlds and celebrating love that knows no boundaries. You're invited to an engagement party that's a blend of cultures and a whole lot of fun."
Forever Vintage: Wording with a Nostalgic Flair
Taking inspiration from bygone eras for your wording
Embrace the charm of a bygone era with vintage-inspired invitation wording that transports your guests to a timeless celebration.
Using vintage phrases and elegant script fonts
"An affair to remember: Join us for an engagement celebration filled with vintage charm, laughter, and memories that stand the test of time."
Transporting guests to a timeless celebration
"Step into a world of elegance and grace, where love stories were written in cursive. We invite you to an engagement party that's forever vintage."
Formal Extravaganza: Black-Tie Affair Wording
Reflecting the grandeur of a formal engagement party
If you're planning a formal affair, your invitations should exude grandeur and elegance, setting the stage for an exquisite celebration.
Utilizing formal language and elegant expressions
"An evening of opulence and celebration awaits. You are cordially invited to a black-tie engagement soirée in honor of [Your Names]."
Conveying the upscale nature of the event
"Dress your best and join us for a night of glamour, love, and festivities as we celebrate the engagement of [Your Names]. Your presence is requested at this formal affair."
Casual Chic: Effortlessly Informal Wording
Crafting laid-back invitations with a touch of informality
For couples who prefer a relaxed and casual gathering, let your invitations reflect the laid-back nature of the event.
Using relaxed language to invite guests to a casual event –   

"No need to dust off your tux or gown—just bring your smile and join us for a casual engagement celebration in honor of [Your Names]."
Emphasizing comfort and fun over tradition –  "We're throwing tradition out the window and embracing comfort and fun. Join us for a casual chic engagement party where memories will be made and laughter will be plenty."
A Whimsical Affair: Playful Invitation Wording
Infusing humor and whimsy into your wording
For couples who love a good laugh and a touch of playfulness, let your invitations reflect the fun and whimsy of your relationship.
Using creative wordplay and light-hearted phrases
"Get ready for a night of laughter, dancing, and 'happily ever after' vibes. [Your Names] invite you to a whimsical engagement celebration!"
Setting an enjoyable and light-hearted tone
"We promise there will be more laughter than speeches and more dancing than formality. Join us for a celebration that's as whimsical as our love story."
Cultural Finesse: Wording for Cultural Celebrations
Tailoring invitations to honor cultural traditions
If your engagement party is a blend of cultural celebrations, let your invitations reflect the rich heritage you're honoring.
Incorporating language and symbols relevant to your heritage
"From our hearts to yours, join us for a cultural celebration as we embark on this journey of love and unity."
Blending cultural significance with wedding festivity
"Colors, traditions, and love unite as we celebrate [Your Names]' engagement in a manner that pays homage to our cultural roots."
Music of Love: Wording for Musical Themes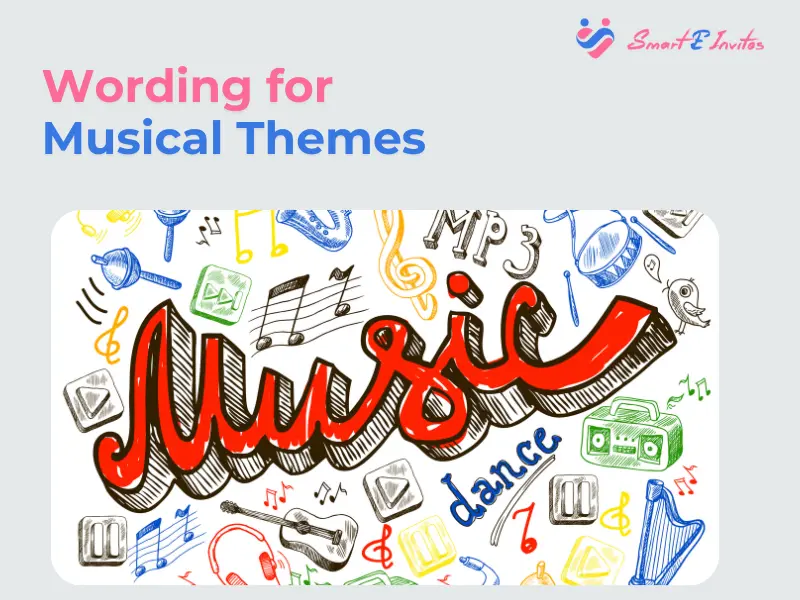 Creating invitations inspired by music and melodies
If music holds a special place in your heart, let your invitations sing the tune of your love story.
Using rhythmic language and musical metaphors
"Cue the music and join us for a symphony of love! [Your Names] invite you to an engagement party that's sure to hit all the right notes."
Setting the stage for a harmonious celebration
"Love is our melody, and your presence is the harmony that completes the song. Join us for an engagement celebration filled with music, laughter, and endless memories."
Conclusion
Your engagement party invitations are your guests' first glimpse of the celebration you're planning. Whether you're drawn to classic elegance, rustic charm, cultural fusion, or playful whimsy, there's a perfect wording style that reflects your unique journey as a couple.
Therefore, let your invitations set the tone for a celebration as special as your love story.
Remember, your chosen words reflect your personality and the atmosphere you want to create. So, have fun crafting your invitations and preparing to kick off your engagement celebrations in style!