Birthdays are special occasions that allow us to celebrate the people we love and cherish most in our lives. Finding the best gift for wife birthday is an essential expression of your love and appreciation. However, selecting a surprise gift for your wife on her birthday can be a daunting task, as you want to ensure it is thoughtful and meaningful.
It should reflect her personality and interests. In this comprehensive blog, we will explore a variety of unique birthday gifts for wife. It guarantees to make her feel cherished and loved. The romantic best birthday gift for wife ideas should be thoughtful and heartfelt.
Jewellery, a bouquet of flowers, or a candlelit supper are all excellent choices. You can give her something more priceless, such as a present, to make the occasion even more unique and memorable. A beautiful painting, a meaningful book, or a handcrafted card are examples of personalized birthday gifts that make excellent choices.
Of course, nothing compares to a sincere expression of love and gratitude. Whatever you decide, make sure it shows how much you cherish and care for your wife on her special day.
Explore Best Gift Ideas For Wife Birthday To Make Her Feel Special
She will definitely smile if you give her a creative birthday gift like a personalised picture album or scrapbook filled with memories. Below is a list of the best gifts for your wife on her birthday that we have put up to give you more possibilities.
Personalized Gifts: A Touch of Sentimentality
You can personalise gifts by saying "I love you" with a personalized birthday. Customizing a present shows that you have put thought into it, making it unique and special. There are numerous options such as custom-made jewellery with her name, a photo album filled with memories of your journey together, or a beautifully crafted piece of artwork featuring a significant date or location. These surprise birthday gift ideas for your wife not only reflect your love but also create lasting keepsakes. 
Travel Surprise: Create Lasting Memories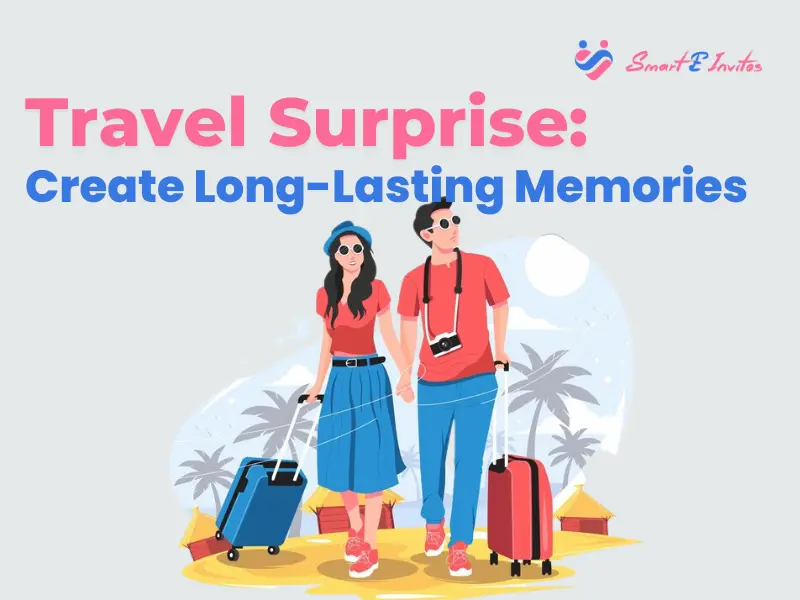 If your wife loves to travel and explore new places, consider surprising her with a getaway to a destination she plans to visit. Whether it's a romantic weekend retreat to a cosy cabin in the mountains or a cultural adventure in a bustling city will create cherished memories. You can share your experiences during this trip and it will strengthen your bond as a couple. It would be the best gift for wife on her birthday.
Thoughtful Subscription Services: Gifts That Keep Giving
Subscription services are a unique birthday gift something she loves throughout the year. You can select a gourmet food box for the foodie, a monthly wellness box for the fitness enthusiast, or a book subscription each month for the voracious reader. She will be reminded of your kind act each time she receives a new package, which will make her happy.
Skill-Building Classes: Encourage Her Passions
Consider gifting your wife a skill-building class that aligns with her interests or hobbies. Whether it's painting, pottery, photography, cooking, or dance, this online birthday gift for your wife shows your support for her passions and aspirations. Also, it offers a chance for her to explore new talents and enjoy a sense of personal growth.
Jewellery: Timeless Elegance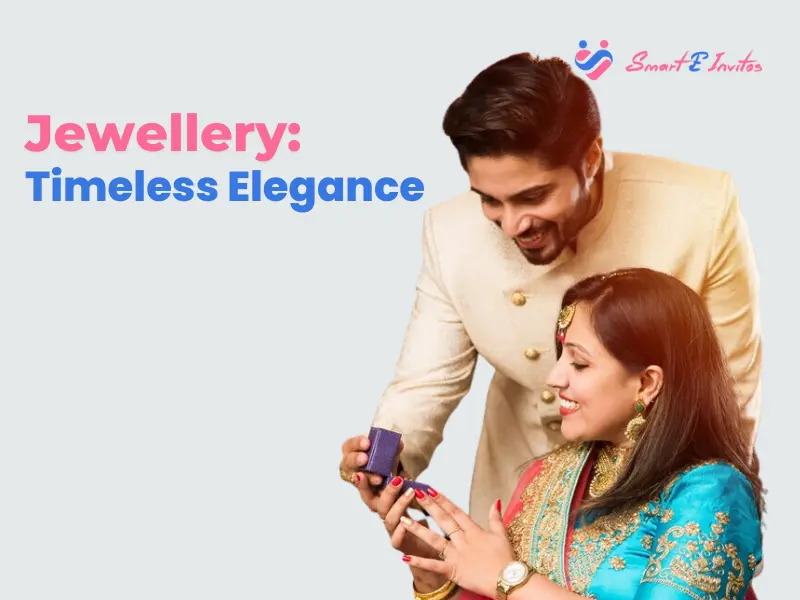 Jewellery has always been a classic surprise gift for wife birthday. Whether it's a stunning necklace, a pair of elegant earrings, or a delicate bracelet, jewellery holds sentimental value. Additionally, it can be a symbol of your enduring love.
You can pay attention to her style preferences and choose a piece that aligns with her taste, making it even more meaningful. For this purpose, you can buy a stunning and distinctive piece of jewellery, the Drop Wreath Pendant Set in Sterling Silver and Rose Gold.
Spa Retreat: Pamper and Relaxation
A fantastic method to relax your wife and assist her in relieving the stresses of daily life is to take her to a spa retreat. Think of scheduling a day at a posh spa where she may indulge in massages, facials, and other relaxing treatments. Alternatively, you can create a DIY spa experience at home, complete with scented candles, bath oils, and soft music. However, this unique gift for wife on birthday will allow her to recharge her batteries and feel rejuvenated on her special day.
A Surprise Party: Celebrate Her in Style
Plan a surprise birthday party for your wife and invite her closest friends and family. Also, make sure to consider her preferences, whether she prefers an intimate gathering or a larger celebration. Surprising her with a party filled with love and laughter will make her feel cherished and surrounded by the people who matter most to her.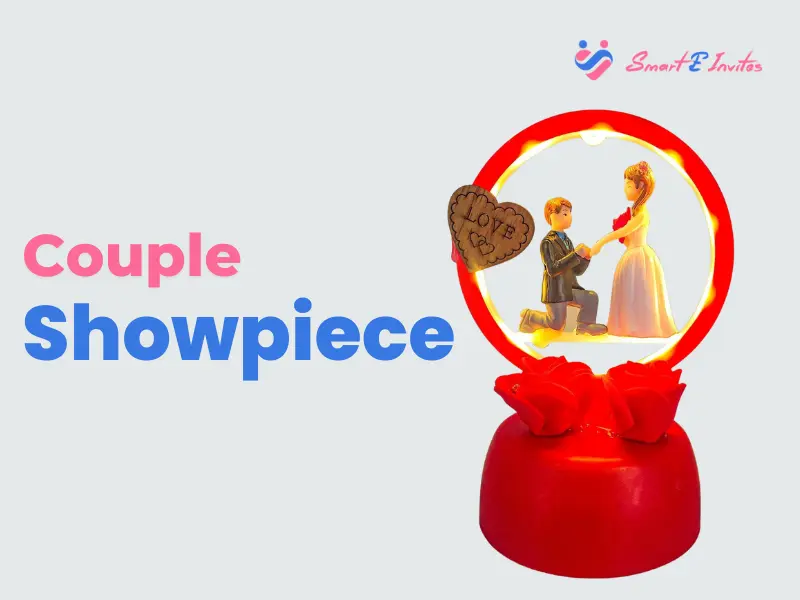 An exquisite work of art called a couple of showcase is ideal for honouring a remarkable couple. Any piece of art that shows two individuals in a warm embrace is acceptable, whether it be a sculpture, a figure, or a painting. Showing your love and respect for that particular someone in your life is easy with a couple of showpieces.
They are a great conversation starter and may be exhibited anywhere in the house, including the living room and bedroom. Couple showpieces are a wonderful way to express your love for that special someone and serve as a constant reminder of your relationship. Moreover, that's the best happy birthday gift for wife. 
Making your wife feel special by organising a romantic supper for her birthday is a lovely way to celebrate. And, you are free to choose between eating dinner at home or at a beautiful restaurant. Additionally, you can create a romantic ambience with candles, dim lighting, and lovely accents.
You can use flowers, fairy lights, or any other elements that she loves. Also, you can add a personal touch to the dinner. For example, you could prepare a dish that holds sentimental value or remind her of a fond memory you both share.
For your wife's birthday, a beautiful and meaningful gift might be an arrangement of flowers. In addition, you might learn about her favourite flower variety. Clubbing her favourite blooms will show that you pay attention to her preferences and care about her likes. You can go for a classic and elegant bouquet, a modern and artistic arrangement, or a romantic and lush display.
Conclusion
Choosing a surprise birthday gift for your wife requires careful thought and consideration. Remember, the surprise birthday gifts for wife are those that come from the heart. They show how much you know and appreciate her. Whether it's a personalized keepsake, a relaxing spa retreat, or an exciting travel adventure, the key is to make it meaningful and reflective of her interests.
With this guide, you are well on your way to finding the birthday special gift for your wife. Additionally, it will help in making your wife's special day even more memorable and filled with love.
FAQs
Ques 1. What birthday gift for my wife can I give?
Ans: You can gift your wife a handmade card, a photo album of special moments, or a membership to a magazine she enjoys.
Ques 2. How can I surprise my wife on her birthday in the greatest way?
Ans: Making unique plans that your wife will love and remember is the best approach to surprise her on her birthday. You may organise an exciting excursion that she is always wanted to go on. You can throw her a surprise party with her friends and family, or take her away on a romantic retreat.
Ques 3. What can be the birthday gift for wife online?
Ans. A birthday day gift for wife can be a personalised photo book, a gift basket, or a subscription box filled with her favourite things.
Ques 4. How can you impress your wife on her birthday?
Ans. You should pay close attention to her feelings and sensations. And, you take the time to examine her mood and do the needful. You can tease and pamper her.
Ques 5. What is the best way to celebrate your wife's birthday?
Ans. The best way to celebrate your wife's birthday will depend on her personality, interests, and preferences. You can gift her cake with love quotes. Even you can celebrate her birthday with a surprise party.