In Indian weddings, the invitation is more than paper – it represents tradition, love, and the upcoming big celebration. The significance of digital wedding invitations has remained steadfast over the years, but the designs and costs have evolved dramatically.
Evolving Trends With Invitations
Wedding invitations used to be basic announcements. And now they are detailed artworks that show the style of the couple and the wedding elegance. From traditional motifs to contemporary themes, invitation design has no bounds. These days, couples strive for invitations that convey the event details and set the tone for their big day.
However, this quest for the perfect wedding invitation design comes with a price. You will be amazed by the many details that make up the total expense in wedding invitation costs in India 2023.
Factors Affecting Wedding Invitation Costs
This blog post will explore the changing Indian wedding card pricing trends and deeply dive into the factors influencing these costs. Let's embark on this informative journey together, if you are curious about what goes into making those exquisite wedding invitations,
Design and Complexity: 
Your invitation design can range from elegant minimalism to intricate and ornate patterns. The more complex the design, the higher the costs, as it requires skilled artisans to bring your vision to life. Custom wedding invitation expenses also come at a premium, reflecting the exclusivity of your Invitation.
Material Matters: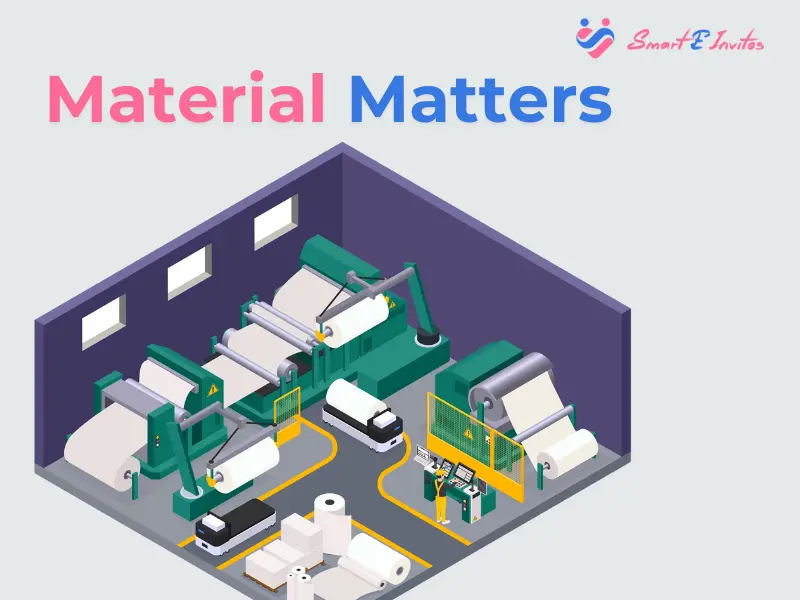 The paper you choose is more than just a canvas for your design – it is a tactile experience for your guests. From luxurious card stock to textured paper, the material you select can significantly impact the overall look and feel of the Invitation.
Printing Technique: 
The printing techniques for wedding Invitations can turn it into a work of art. Digital printing is cost-effective and versatile, while offset printing and letterpress add a touch of elegance. For those seeking luxury, foil stamping can make your invitation shine.
Quantity Quandary: 
Ordering in bulk will lead to the invitations cost savings. However, for intimate weddings, smaller quantities are more reasonable. Be mindful that larger quantities might lead to extra costs for customization.
Also Read –  Wedding Invitation Message Guide To Craft Perfect Invitation Message For Guests
Add-ons and Embellishments: 
Envelope liners, wax seals, ribbons, and other embellishments elevate your wedding cards to a new level. These elegant touches not only add to the aesthetics but also to the costs.
Personalization and Customization: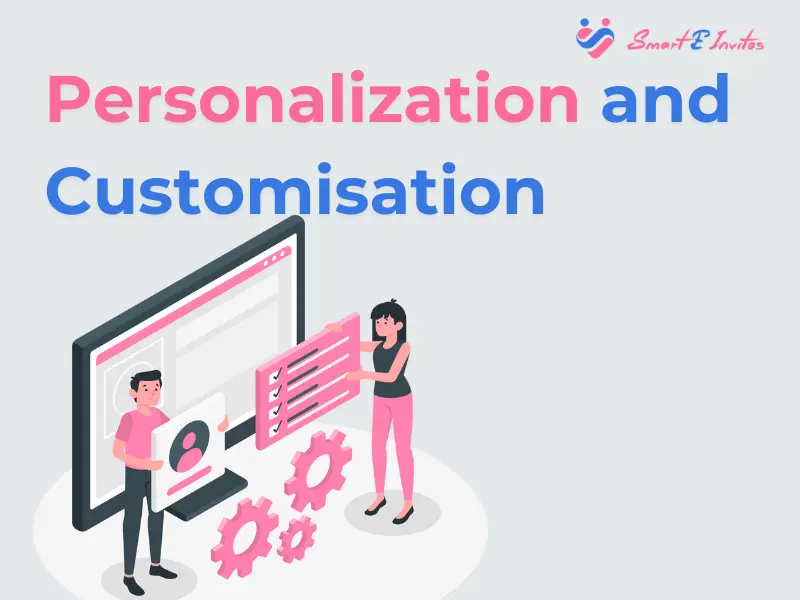 Adding personal touches like monograms, couple's photographs, and calligraphy can make your Invitation unique. Personalized elements require skilled artists, which can add to the expense.
Vendor Choice:
 
Choosing between high-end boutique designers and local printers is a major decision. While boutique designers offer exclusivity, local printers provide affordability.
Average Cost Ranges
Low-End Elegance: Basic designs and digital printing are the go-to options for those with a modest budget. Standard paper and minimal customization keep costs in check while conveying the essential details in style.
Mid-Range Extravaganza: If you are looking for moderate designs, better quality paper, and customisation, the mid-range option is ideal. Additional add-ons like envelope liners and subtle embellishments enhance the appeal without breaking the bank.
High-End Luxury: Stepping into the world of luxury means setting your heart on intricate designs, premium materials, and extensive customization. High-quality printing techniques like foil stamping and letterpress take centre stage. It's an investment that results in a stunning keepsake.
Regional Differences in Invitation Costs
Metro Marvels: 
In bustling metro cities, options range from boutique studios to renowned designers. This variety comes at a cost, with prices skewed towards the higher end due to the availability of high-end choices.
Tier 2 Treasures: 
Tier 2 cities offer a balanced mix of standard and premium options. While the costs are more moderate than metros, the range of designs and choices remains impressive.
Rural Richness: 
Tradition takes the lead in rural areas, and invitations are often more classic and traditional. Costs are generally lower, reflecting simpler designs and limited customization.
DIY and Budget-Friendly Alternatives
Crafty Creations: 
Do-It-Yourself wedding cards have changed to reflect personalization. Designing and printing invitations at home saves money and allows you to unleash your creativity.
Digital Delights: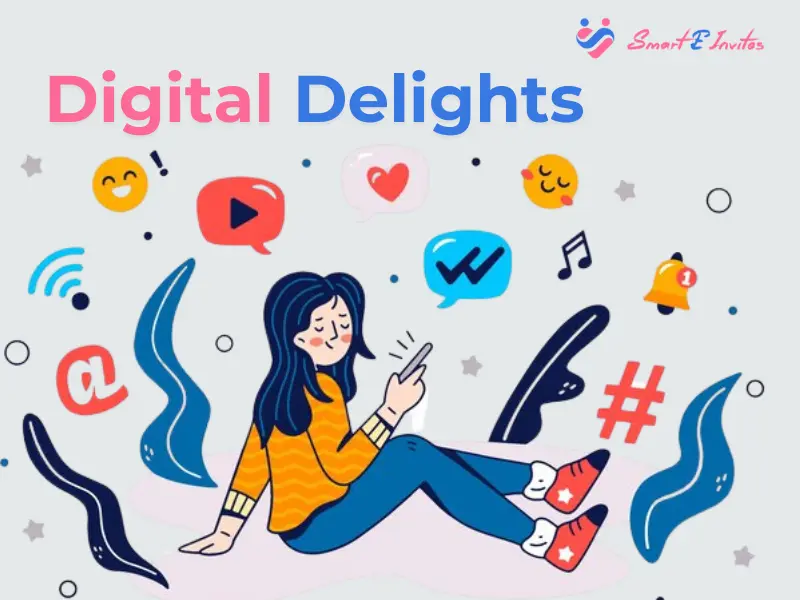 In the digital age, e-invites and online platforms are gaining popularity. They are not only environmentally friendly but also cost-effective. Plus, you can add interactive elements that make your Invitation memorable.
Printable Templates: 
Pre-designed templates offer the best of both worlds – affordability and customization. You can choose a template that resonates with your wedding theme and print it locally, saving time and money.
Real-Life Examples
Lavish Affair: Picture an elegant wedding in a metropolitan city. The couple spares no expense, opting for intricate designs, premium materials, and even gold foil accents. With custom calligraphy and lavish envelope liners, the Invitation is nothing short of a masterpiece.
Destination Dream: In a resort town, a destination wedding is in the cards. The couple goes for a design that reflects the beachy vibe with water colour elements. The Invitation is stunning and includes a digital QR code leading to a custom wedding website.
Traditional Charm: In a rural setting, a traditional wedding is taking place. The Invitation is elegant in its simplicity, with classic motifs and warm hues. While the design is minimalistic, the Invitation exudes charm and sophistication.
Expert Tips for Wedding Invitation Cost Management
Prioritise Wisely: 
Allocate your luxury wedding invites budget to elements that matter most to you. If you value design over embellishments, invest more in the design itself.
Negotiation Ninja: 
Do not hesitate to negotiate with vendors. Bulk orders might qualify for discounts, and package deals can provide more bang for your buck.
Designs that Delight: 
Opt for designs that minimise printing complexities. This not only saves costs but also ensures a smoother printing process.
DIY Invitation:
If you're considering DIY elements, choose ones that align with your skills. It's a great way to personalise without incurring additional costs.
Conclusion
In the enchanting world of wedding invitations, costs can vary as much as the designs themselves. From intricate luxury to heartfelt simplicity, there's an invitation for every couple's vision and budget. The Invitation is more than just a paper. It is a look at the love story which the couple will share with the world.
FAQs
Ques 1. What factors contribute to the cost of wedding invitations in 2023?
Ans The cost of wedding invitations in 2023 is influenced by factors such as design complexity, chosen materials, printing techniques, quantity ordered, add-ons like embellishments, personalization elements, and vendor choice.
Ques 2. What are the average cost ranges for wedding invitations?
Ans In 2023, wedding invitation costs vary based on the level of customization. Low-end designs with digital printing and minimal customization have a modest cost, mid-range designs with better quality paper and some customisation are middle-ground options, while high-end luxury invitations with intricate designs, premium materials, and extensive customisation are more expensive.
Ques 3. How do regional differences impact the cost of wedding invitations?
Ans The cost of wedding invitations in 2023 varies across different regions. In metro cities, prices tend to be higher due to the availability of high-end choices. Tier 2 cities offer a balanced mix of options, and rural areas have simpler and more traditional designs with generally lower costs.
Ques 4. What are some budget-friendly alternatives for wedding invitations?
Ans In 2023, budget-friendly alternatives include DIY wedding cards, which allow you to design and print invitations at home. Digital invitations and evites are environmentally friendly and cost-effective. Printable templates offer affordability and customisation options.
Ques 5. What are some expert tips for managing the cost of wedding invitations?
Ans To manage wedding invitation costs in 2023, you can prioritize elements that matter most to you, negotiate with vendors for discounts, choose designs that minimise printing complexities, and consider incorporating DIY elements that align with your skills.